Himiway is ready for the coming challenge
---
In the past few years, as the e-bikes gradually getting popular among the people, the demand for electric bicycles is increasing. In recent months, because of the pandemic around the world, people have turned to safer and more affordable transportation.
There is no doubt that e-bikes help reduce direct touch with others and also save money as well as natural resources. We all know that gasoline and diesel are in shortage around the world and the costs for them are high as well. This is why Himiway e-bike is a safer and more affordable choice for people. And this has made a contribution to a significant increase in the number of electric bicycle purchasing. It's pretty clear in our purchasing list.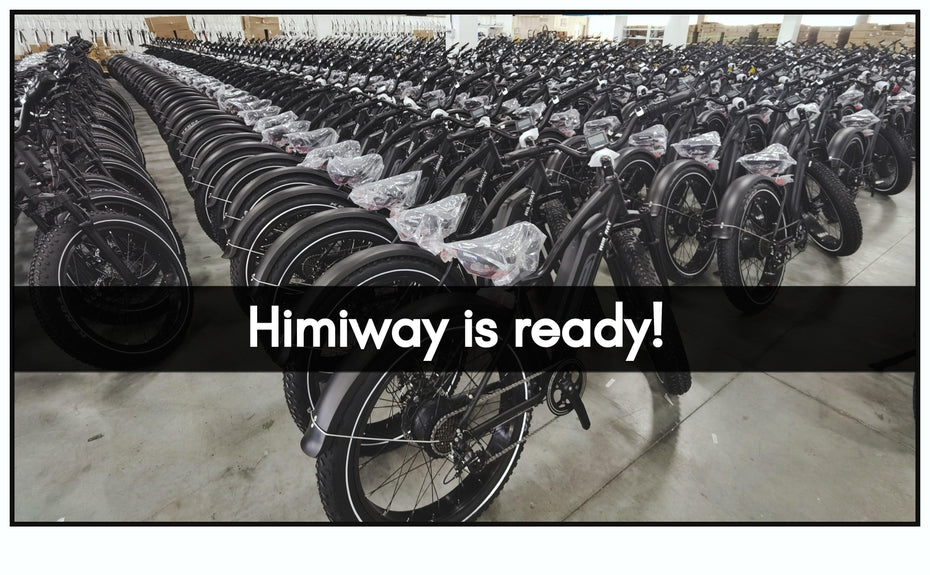 Fulfill our commitment
We are supposed to say sorry to people who are still waiting for their bicycles due to the shipping issues. Owing to the COVID-19, the global logistics and transportation industries have been greatly affected, but we promise that the bicycles will be sent to you as soon as possible. Apart from this, in order to meet the ever-increasing demand for Himiway electric bicycles, we are constantly strengthening our productivity and increasing products while ensuring high quality as usual.
The pandemic results in a significant influence in the bicycle industry all over the world since people believe that in this situation, riding a bike is a reassuring choice, which allows people to have a less direct touch with others to reduce risks. We admit that such soaring demand has caused our insufficient inventory in the past few months, but now, production is back on track and we are more committed to the production. In addition, we take more measures to make sure of adequate bicycles and accessories in case of such demand in the future.
We have our own reliable supply chain. Himiway e-bikes meet all the strict manufacturing standards. The components such as Shimano 7 speed gear derailer and Samsung/LG lithium battery are in line with global production and quality standards. This allows us to still guarantee the supply of our e-bikes during the pandemic and better protect from potential supply interruptions in the future, so as to provide customers with enough stocks. Now we'd like to share our great stocks with you to leave you released. It won't be a problem if you want to order more Himiways.
Reliable quality
The quality of our product is always the priority. In spite of the limited transportation, we still make sure that suppliers provide components on time for production. Despite the surge in the number of bicycles purchased, the quality is definitely as good as before. Every stage in production is essential, from the production of components to the assembly of the bike, therefore, we pay more attention to each step. We make inspections for every e-bike before leaving the factory to ensure the quality.
Apart from this, we have high standards for sourcing and vendor management. For sourcing, we concentrate more on the brand and quality of components and choose reliable vendors. This is a good way to guarantee the quality of our products before giving them to customers, and we will stick to it all the time.
Better e-bike
At present, we have two types of Himiway electric fat bikes. But we all know that innovation is the core of a company, only when we innovate better products can assure customers have a better experience of purchasing, which means the brand new bike with more functions and accessories are coming soon.
We have been committed to meeting customers' needs, therefore, our new releases will better satisfy customers and we have been going for it. We have received several suggestions from customers from e-mail, Facebook, and Youtube. But, if you still have any recommendations or suggestions, please let us know. We would love to hear from you, as your advice will make our products better.
Reliable support
The support service is constantly being one of the most important parts of our company both for sales and after-sales. We believe that good service can strengthen mutual understanding, and make consumers trust our company and products. Only in this way, could we be lucky enough to gain your huge favor, so as to improve the competitiveness of our company.
With the increase in bicycle sales, we are getting more and more inquiries about our e-bike, so, we make the recruitment of more staff and almost doubled our staff to ensure that customers could get the answer as quickly as possible.
However, this is not enough for support service, because sometimes it is hard to describe the process of assembly or fixing. Therefore, we will make more videos about our bike, including the assembly, the repairing, and maintenance to help customers better protect their e-bikes.
If you have any questions about our e-bike, please let us know at any time. We'd like to solve the problems for you!
Sales Mail: support@himiwaybike.com
After-sales Mail: customers@himiwaybike.com
Next step
This is a small part of what we have done in recent months, as a B-C (business to customer) company, we always put customers first. We are 24/7 ready for you, so please feel free to contact us if you have any questions! Besides, we will make more Himiway electric fat-tire bikes to satisfy your orders while ensuing quality, therefore, do not worry about your bicycles, they are well prepared.
Moreover, we will make our products up to date, accelerate the development of the new products, as well as improve our service continuously according to customers' feedback. Any experience or feeling can be sent to us through email and Facebook, no matter it's critical, objective, or positive.
We hope that what we've done could make you pleased. As a company, we have always been devoting ourselves to the green lifestyle, not only transportation but everything in our society. We will never stop upgrading our products and service. Thanks for your support!
---
---