Top 5 Electric Bike Camping Tips 2020
---
Traveling is a very meaningful and pleasant thing, and so is camping by bike. Have you always been eager to ride your Himiway, together with your family and friends, get deep into nature, enjoy the fresh air, and appreciate the fireflies at night, to have a fantastic electric bike camping trip? But how much do you know about bike camping? What should you bring on your trip? How should you choose the route and what should you pay attention to for long-distance riding and during camping? If you have no answer to these questions, please read this article carefully before you set out for your trip, we believe our suggestions will bring you an unforgettable cycling and camping trip!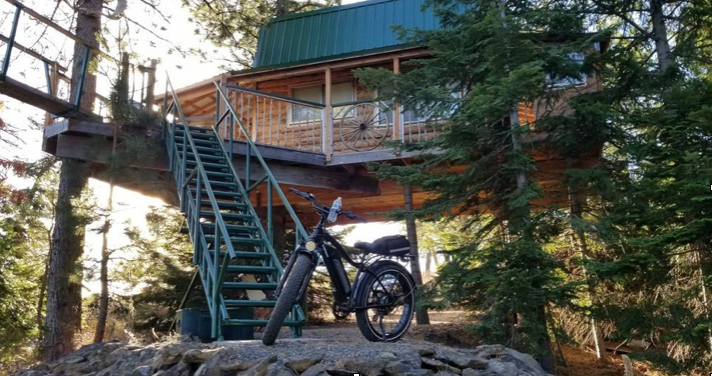 Pack Your Bag
Pack your luggage before departure, and remember to bring these essential items for your camping trips. First, tents and sleeping bags are required, you should decide how many tents and sleeping bags to bring based on the number of people. And if you are a light sleeper, earplugs and eye masks are also needed, they will give you a good sleep.
As the source of life, enough water is essential. For those campgrounds that do not provide drinking water, we recommend that you bring about 3 liters of water per person per night: one liter to drink when pitching tents and having dinner, one liter for personal hygiene, such as washing your face or brushing your teeth, etc. And another one liter for rehydrating the next morning. Of course, if you want to cook at the campsite, you will need to bring more water for cooking and washing dishes.
Prepare enough food, preferably easy to eat directly, such as sandwiches, bread, biscuits, instant noodles, etc. If possible, you can also choose to bring a stove to brew coffee, it depends on your personal needs. Besides, daily necessities for personal hygiene such as shampoo, shower gel, and kitchenware cleaning products such as biodegradable soap are also indispensable.
Other various camping necessities will also come in handy. Mobile phones and GPS beacons can keep you from getting lost. Two or more mobile light sources (such as flashlights, portable lights, or choose to ride an electric bicycle with bright enough headlights, just like Himiway electric bicycles). The first aid kit can be used for emergency treatment when someone gets injured, and the toolbox can solve some mechanical failures, just in case the electric bicycle breaks down. And it's best to bring a spare ebike battery for an emergency. Besides, in case you might get bored, you can prepare some fun camp activities such as flying chess or going fishing, etc.
If there are lots of items to bring, we recommend that you ride with friends and carrying different necessities separately to reduce the burden on travel.
Decide a Route
So how to choose a cycling route? We suggest that the route you ride should be near a town or a bicycle repair shop so that you can ask others for help when you encounter difficulties and emergencies. Then, it's better to ride on bicycle lanes or roads that bicycles are allowed. There will be many potential dangers in the lanes shared with motor vehicles. Finally, to minimize the possibility of unexpected accidents, please try to avoid dark and narrow tunnels, bridges, dangerous roads near hillsides, and places under construction.
Select a Good Campsite
Choosing a comfortable and suitable campsite is crucial to your sleep quality, and good sleep is the prerequisite for a pleasant holiday. Try to choose the campsite in an open area. Before deciding where to put the tent, take a closer look at the surrounding terrain. If there are cliffs or mountains nearby, this will not be a good place to sleep. For the most comfortable camping site, the ground should be flat and soft. Do not place the tent on the ground with hard and sharp objects such as rocks, branches, etc. Away from highways, buildings with strong light, and wild animals, they will be very noisy. If possible, please try to choose a campsite close to the water source, which will greatly facilitate your camping life.
Protect Wild Animals
Please be careful not to approach wild animals. Once they know that they can get food from humans, they will become aggressive. And if there are many cases of wild animals attacking humans, local authorities will kill them. This is bad for you and the animals. Therefore, for the safety of each other, please do not feed or take photos with them, let alone tease them with stones or sticks. And always keep some distance from them, especially aggressive wild animals. They can become extremely dangerous sometimes.
Keep Clean
Keep the camp tidy and keep water and food in one place to avoid being eaten by pests. This is important to your personal health. Moreover, for environmental protection, please dispose of all kinds of garbage properly and take them away when you leave. If you have set up a temporary bathroom, please keep it clean. The chemicals used to clean tableware and clothing are preferably biodegradable, and you should be at least 200 feet away from the water source when washing to avoid contamination of the water.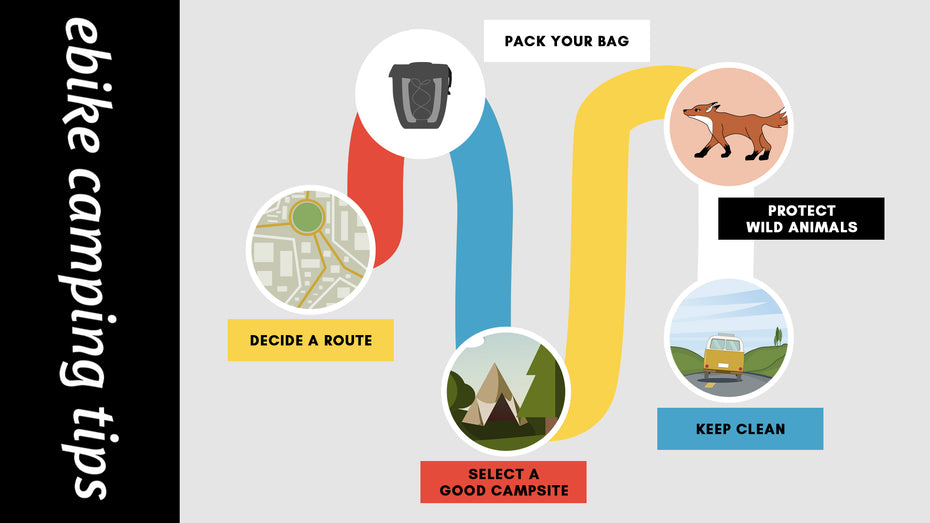 In addition to the points mentioned above, we recommend that you do a good travel guide before you start your trip, and have a good grasp of the specific conditions of the campsite. What is the temperature difference between day and night? Is the cell phone signal good? Will there be ferocious beasts such as bears and jaguars? And some other things you want to know, you can call and consult the local management staff.
If after reading our article, you can't wait to have an exciting camping trip with your family and friends to feel the charm of nature. Please be well prepared, pack your bags, plan your route, choose your destination, and fully charge your Himiway. Just put down your work and go ahead, and come to an unforgettable camping trip in your life! If you had a wonderful camping experience, please don't forget to share your camping story with us.
---
---