Himiway Electric Bike Black Friday & Cyber Monday Sales 2020
---
As the most popular means of transportation in 2020 and in the future, electric bicycles have many irreplaceable advantages, such as pollution-free, time and energy saving. If you want to have a healthy lifestyle and want to protect the environment while exercising, then electric bicycles will be your best choice. Moreover, the current epidemic has not yet been alleviated, and there is still a need to maintain social distance. From the above aspects, the benefits of electric bicycles are unparalleled. Electric bike Black Friday and Cyber Monday of this year are coming soon! I believe that you have been looking forward to the Himiway e-bike sales for a long time. Come and follow us to see what deals do we have!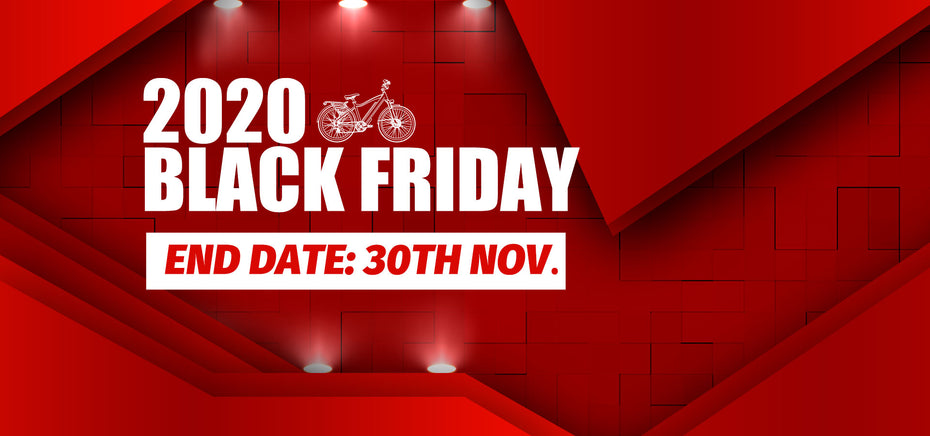 What Deals can Himiway Offer
We are so pleased to tell you that our promotion period is from Black Friday to Cyber Monday, four days in total! The Cruiser series(Cruiser Black and Cruiser Step-Thru) under Himiway will be discounted by $50 each! And the Escape model will be discounted by $100! If you are considering to buy one or more electric bikes, then please don't miss this best opportunity to get one Himiway All Terrain Electric Bike!
Which Himiway E-bike Fit Your Need
We currently have three different models of electric bicycles in total: Himiway Escape, Himiway Cruiser Black, and Himwiay Cruiser Step-Thru. Next, we will briefly introduce their respective characteristics to help you make the best choice.
HIMIWAY CRUISER - All Terrain Electric Fat Bike
As our most classic model, Himiway Cruiser Black has always been loved by everyone with its powerful functions. First of all, it is equipped with fat tires, which are the basis for Cruiser to travel on various terrains. This not only guarantees the stability of riding, but also provides strong grip and traction. Incredibly comfortable compared to conventional tires. Besides, as the unique feature of class 2 electric bicycle, with both throttle and pedal-assist design, it will not make you feel helpless when one of the two parts breakdown. And equipped with 48V, 17.5A Samsung/LG lithium battery, Himiway Cruiser has a considerable 35~60 miles cruising range, only takes about 8 hours to fully charge. Moreover, electric bikes have relatively high speeds, and the quality of the brake determines the safety of riding. Disc brakes ensure the excellent braking performance of our bikes, definitely suitable for you to have a wonderful cycling trip around the county with your intimate friends.
HIMIWAY CRUISER STEP-THRU - All Terrain Step Thru 
Himiway Step-Thru has the same outstanding performance as Cruiser Black. Their components come from the same supplier. The difference lies in their color and frame. In order to meet the preferences of different customers, we launched the Step-Thru with elegant white and a Step-through frame, which is very convenient for people who like to wear dresses or leggings. For more information, check the step thru ebike buying guide
HIMIWAY ESCAPE - Moped-Style Electric Bike
As our newest model, there is something different between ESCAPE and CRUISER. The first is the difference in the frame. Escape uses a moped-style frame. The standover height of Escape is lower, which is more suitable for people who are not so tall. If you didn't buy Cruiser because of the high standover height, then please don't miss Escape. For bicycle tires, we chose strong and durable Kenda puncture-resistant fat tires, it provides improved grip and traction on the most troublesome terrain, allows you to ride on various terrains without worries. In addition, we have upgraded the brake system to two more sensitive mechanical disc brake to escort your cycling trip. And mechanical disc brake provides you with better shock absorption, together with bright enough headlight and integrated tail light, all-round to ensure your riding safety.
Why Choose Himiway
Since there are so many electric bicycle brands on the market, you may ask: Why should I choose Himiway? What can I get from you? And here are our answers to this.
As mentioned above, Himiway Electric Bike has long battery life, sensitive braking system, gear shift system to meet different needs. And all these excellent performances are due to Himiway carefully chooses every supplier of electric bicycle parts, such as the Shimano transmission system from Japan, Samsung/LG battery from South Korea, and other famous brands from all over the world. Coupled with strict control of each production process, just to bring the most perfect product to everyone.
Most electric bicycle companies only provide a one-year warranty, while Himiway provides a two-year warranty. If there is any quality problem, we are pleased to serve you. Moreover, we offer free shipping within the continental United States. Only Alaska, Hawaii, and some other islands are not available due to the long distance. Everything we do is just for everyone to have a satisfying shopping experience without any worry.
For an electric bicycle with all the above advantages, the average price is around $1699. However, Himiway offers affordable prices, plus the $50 or $100 Discount in these four days, which is the best opportunity to get an electric bike for yourself or your relatives and friends!
Just in case you have forgotten our Black Friday deals, we would like to explain our discount again: During the four days from Black Friday to Cyber Monday, get $50 OFF for each bike of Cruiser series model! And $100 OFF for Escape model! Therefore, if you only need one electric bike to enjoy your time alone, it's a wise choice to get a Himiway Electric Bike. And if your family or friends have the same desires as you, buying two or more electric bikes during our Black Friday & Cyber Monday Sales is the most cost-effective! Double Himi! Double Happiness!
Now, you can make your own choice to get the Himiway model that suits you. Cruiser? Step-Thru? Or Escape? What are you still waiting for? Hurry up! And together with your friends! Take advantage of this best opportunity to become a member of the Himi family and have fun with us!
---
---