Himiway Story: The Best Electric Bike for Hunter
---
Floyd Gregg, a veteran hunter from Indiana, thinks highly of the Himiway Cruiser because he has bought other brands of electric bikes before and he knows the performance of our bikes very well. At the same time, when we received the video from this customer, we found that his fender was not installed correctly. Haha, maybe you should refer to the Himiway fender installation video on our YouTube channel when you receive the fender.
Why did you choose Himiway?
"I've bought an electric bike myself before, but my wife didn't. I decided to choose an electric bike for her online. My brother recommended Himiway Cruiser to me. I was surprised. Less than half the price, but when I received the bike, I didn't expect the Himiway Cruiser to be so good. "Floyd replied.
Which e-bike do you prefer?
"It's simply awesome. I spent twice the price of an electric bike with performance similar to the Himiway Cruiser E-bike. Other than the price difference, the Himiway has almost twice the battery life. My brother had ridden I bought side by side my Himiway Cruiser and the performance of both the bikes are identical. They both go the exact same speed, they both handle muddy fields and steep hills. We will be doing a side by side comparison in the coming weeks. Both bikes have the same motors, suspension, brakes, etc. Take a look at each one's mechanics side by side and you will see for yourself. You are buying a fancy name with an e-bike and you only get a 1-year warranty on the battery I bought. 2-year warranty on the battery through Himiway. It's amazing! We've tested the Himiway right beside our e-bike and they both perform the same. The Himiway gets a lot further on its battery than I bought and is less than half the price! "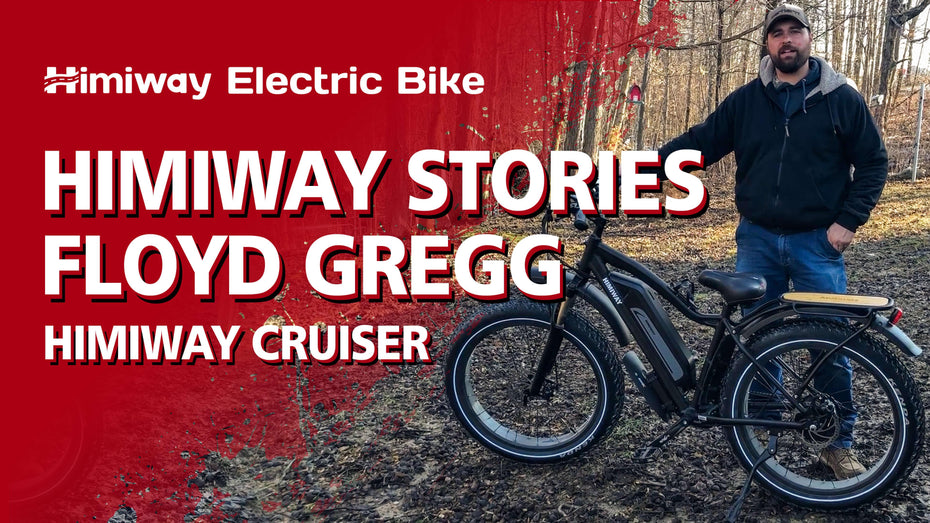 How do you like the performance of the Himiway Cruiser?
"I like Himiway Cruiser very much. Its design is great, especially with a rear shelf at the back. I can carry a lot of things. I rode it through the dirt road. At first, I was scared that I would fall, thankfully I didn't wrestle, it performed very well, I think these are thanks to its fat tires. I tested its power, I rode it to the hillside behind, I can rely on Its pure power, or I use pedal assist, yes, it 's very easy. I like its fat tires. The website says it is all-terrain electric bicycles. I think the fat tires perform really well. There is still snow near my house. I tested driving on snow. Yes, there is no problem at all. I like to hear the sound of tires rolling in the snow. In short, I really like Himiway Cruiser. I think it is worth buying. Maybe You should also buy one for yourself. "
---
---