Which electric cargo bike is right for you?
---
As far as electric cargo bikes go, there are many versions out there, but only a few are truly worth considering. Many manufacturers of cargo e-bikes serve very niche segments of the market. For example, they may make e-bikes strictly for hauling huge loads of items around a campus or industrial district, which would be unnecessary for most riders. Or they may offer their product at such a low price that they need to make sacrifices on the quality of the components. On the opposite side of the spectrum, the price may be so exorbitant that very few individuals could afford one. 
However, our comparison today is between two cargo bikes that hit the mark in both categories: the Himiway Big Dog and the FLYER™ L885. These bikes are both functional for everyday riders and offered at an affordable price with high-quality components. All e-bikes are better for the environment than carbon-emitting automobiles. And when you consider the cost savings you'll get by not filling up your car with a tank of gas every couple of days, these electric cargo bikes make both environmental and economic sense. 
Comparing Cargo E-bikes
There's a lot to like about both these bikes. But before we dive into the main features you'll want to compare, we want to take a moment to point out that we don't compare our bikes to the lowest-priced option or the most expensive in the category. Doing so wouldn't be fair to ourselves or our competition. Differently priced bikes are made for different people with different needs.
Instead, we look for bikes that are similar in style, function, price, and power. In this way, we can accurately gauge how well our bikes are meeting the needs of actual consumers looking at two or more new e-bikes within the same or similar category.
In the chart below, we break down the most important features to compare between two cargo e-bikes at the mid-range price level. However, you may find that other considerations are more essential to you and how you plan to use your bike. With that said, let's get started with our cross-examination of the two bikes: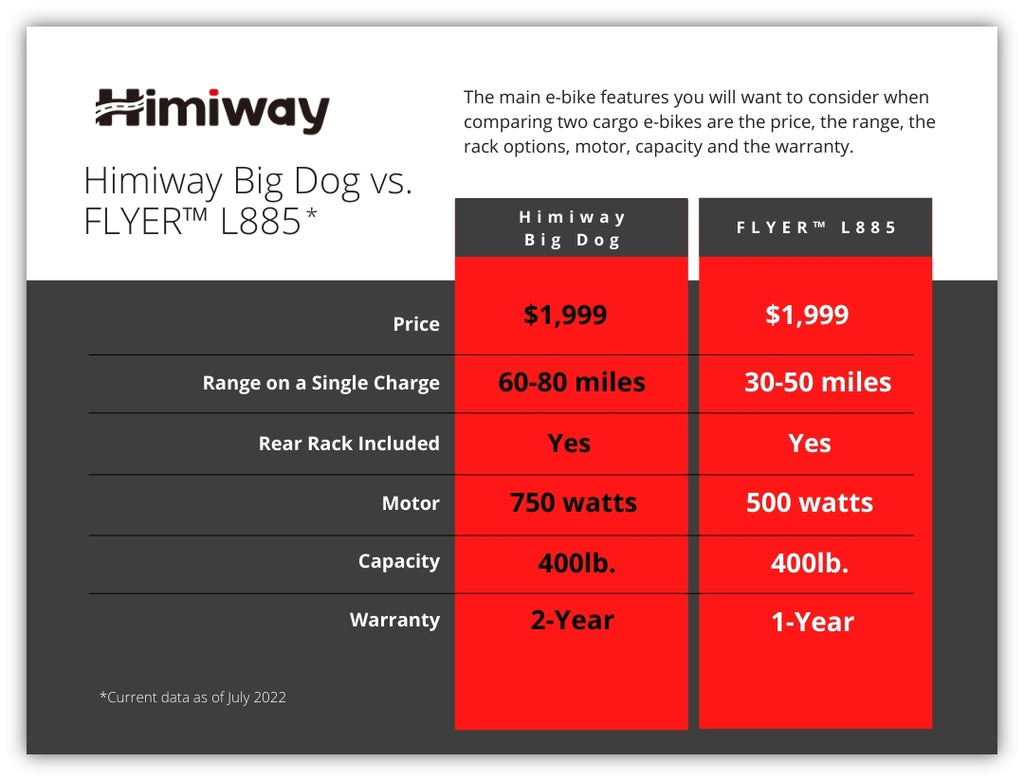 Price Comparison
The first thing to notice is that as of the date of this article, both bikes are priced at exactly $1,999. This lets us know that we have priced the Himiway Big Dog correctly to give potential customers the most bang for their buck. With inflation running rampant, we are proud to offer competitive rates on our best e-bikes. 
Range Comparison
Although the price is comparable, the range of these two cargo e-bikes is significantly different. The Himiway Big Dog, with a state-of-the-art Lithium-ion integrated battery, can travel between 60-80 miles on a single charge depending upon rider weight and the level of pedal-assist. The battery is one of the most critical components of any electric bike, so we focused our attention there during development. 
However, the FLYER™ L885 will only last 30-50 miles per charge. While that may be acceptable for a short ride, we find that riders will often travel to and from work, run errands, and visit friends all in one day, and with the Big Dog's range, that's completely doable. But with about half that range, you may find yourself running out of power on the FLYER™. 
Rack Options
We applaud FLYER™ for their rack options with the FLYER™ L885. Both bikes include a large rear rack at the time of this article's publishing to achieve the same use cases. With a long rear rack and a slightly longer frame, the FLYER™ falls into the "long-tail" category of cargo e-bikes. The Himiway Big Dog falls into the "mid-tail" category, which means it has a more agile frame similar to a moped. Tight turns with heavy loads on the rack will be a bit more difficult with the FLYER™. 
If you're not transporting children, the foot platform on the FLYER™ may be cumbersome or unnecessary, as it is not easily removed. Both bikes get an "A" on the rack options and aesthetics. 
Motor Comparison
A noticeable difference can be seen in the level of motor power between the two bikes. With an additional 250W of power, the brushless geared hub motor on the Himiway Big Dog provides a huge boost of acceleration when you need it. This can be very helpful when riding uphill or through complex terrain with a lot of cargo. 
The FLYER™ promotional information does not go into much detail about the mechanics of the motor, so the details are limited. But we can see that the 500W motor may react slower and reach a slower top speed than the larger, upgraded motor on the Himiway. We would also point to the specialized inner ring of the Big Dog's motor, which dissipates heat and resists high temperatures, thereby increasing the life expectancy of the motor. Unfortunately, it is unclear if the FLYER comes with such a configuration.
Capacity Comparison
Both bikes achieve a tremendous 400lb (ca. 181 kg). Carrying capacity. The Himiway Big Dog provides a variety of loading and unloading functions, which will easily accommodate your luggage, rear baby seat, delivery boxes, and more. We are pleased with the capacity specs of both bikes. Any good cargo e-bike should be able to carry 400lbs. Of gear or supplies, inclusive of the rider. 
Warranty Comparison
Finally, we come to the warranty discussion. For whatever reason, most e-bike manufacturers, including FLYER™, seem content to offer a 1-year limited warranty on their e-bikes. We must point out that with 2 years of warranty coverage, all Himiway bikes come with double the length of protection compared to most other brands. We are confident in our components and manufacturing processes, and we want our customers to be confident in their purchases. It's as simple as that.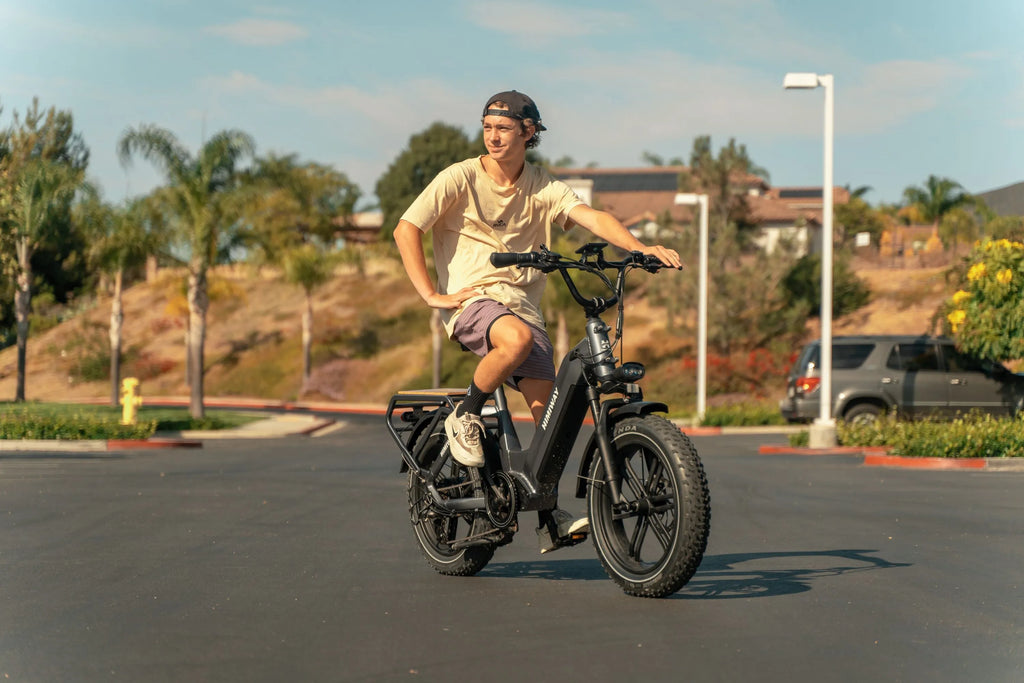 Although the FLYER gets a good grade overall, riders would have to sacrifice power, style, and warranty coverage for the same price as the Himiway Big Dog. For this reason, we conclude the Big Dog to be the winner of the best cargo e-bike in this segment by a decent margin. Riders should expect a comfortable journey thanks to the fat tires, Selle Royal Saddle, and front suspension, among the other factors listed above. 
Until next time, happy riding!
---
---