5 Best Ebike Accessories for Commuting
---
Whether you use a bicycle for commuting or other situations, bicycle accessories are essential. Practical accessories can solve many problems, greatly enhance your riding experience, and protect your personal safety. Then you may wonder, what gear do I need? So here we want to introduce you to the 5 best electric bike accessories for commuting. If you are always troubled by some riding problems, these accessories may be helpful to your riding.
E-bike Helmet
The head is the most essential part of the human body, and the helmet is a necessary accessory to ensure your safety. Although the laws and regulations of most states in the United States do not require helmets for people over the age of 17 when riding class 2 e-bikes, electric bicycles have relatively high speeds and there are many vehicles and pedestrians in cities. Therefore, for your personal safety, it is best to wear a helmet during daily commuting. Himiway e-bike helmet, designed to fit the human head, has the characteristics of light and portable. Bright lights are installed on the front and sides of the helmet, which can provide you with vision in the dark and warn people around. And it supports USB charging, with black, white, blue, and other colors for you to choose. Superior quality with affordable price, escort your cycling trip!

Chain Lock
When parking your bicycle outdoors, such as in some public places, sometimes lack of attention can cause the bicycle to be stolen. The electric bikes on the market now cost more than $1000 or even thousands, although they are not as expensive as motorcycles and cars. Once it is stolen, it is not a small loss for most people. At this time, having a bicycle lock is particularly important. With this in mind, Himiway recently launched an e-bike chain lock that allows you to better protect your beloved electric bicycle. This electric bicycle foldable chain lock is lightweight and has a moderate length when it is unfolded. And the volume is quite small after being folded and very easy to carry. And it is made of zinc alloy and steel, very durable and not easy to break, absolutely suitable for electric bicycles. If you don't want your bike to be lost, please don't miss this delicate lock.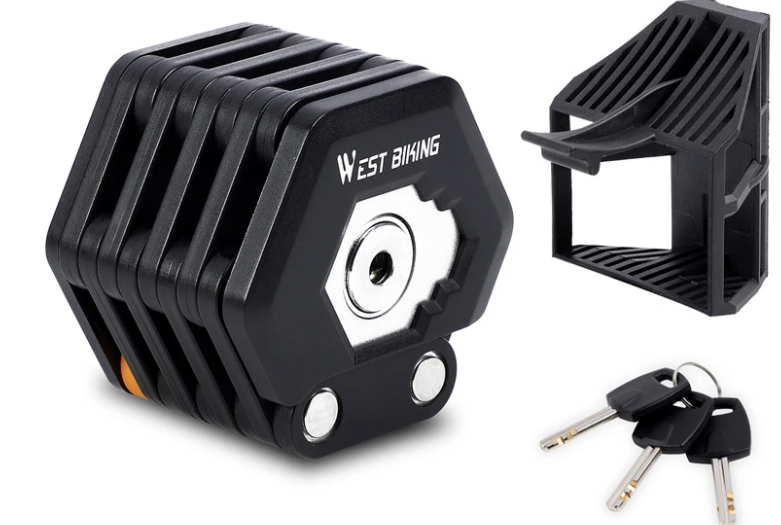 Multi-Function E-bike Repair Tool
When you are in a hurry to go to work, and your electric bike breaks down, it is very annoying. Bicycle breakdowns happen from time to time, which may cause you to be late for work or appointments. At this time, you'll need some portable bicycle repair tools to get out of the trouble. Himiway multifunctional portable electric bike repair tool can solve many emergencies, combining 16 tools with different functions, such as a flat-blade screwdriver, a Phillips screwdriver, and a solid wrench, etc. Easily and efficiently deal with various bicycle problems. The tool is made of stainless steel, which is very strong and durable, you no longer have to worry about being late due to bicycle breakdowns. However, the exquisite workmanship corresponds to a low price, and only a small cost can greatly facilitate your riding!
Large Capacity Waterproof Backpack
When going out on a bicycle, we'll have many things to bring. Usually, we need to bring a laptop, tablet, water bottle, power bank, etc. to work. And if you go on a cycling trip, you must bring necessities such as clothing and food. However, these things are large and difficult to carry, causing a lot of trouble with our travel. Don't worry, Himiway waterproof large-capacity bag can solve your problem. The 27-liter ultra-large capacity can hold a lot of things. The bag is made of high-density nylon and coated with waterproof material. You can remove stains just by gently wiping. It is not easy to be scratched or damaged, and it is very suitable for loading some daily necessities when commuting and traveling. The external bungee cord can be used to place an umbrella or raincoat, and the fixed plate on the back prevents the bag from being caught in the bicycle spokes. Moreover, both sides of the bag are equipped with reflective strips to ensure your safety during night riding, and the comfortable rubber and nylon handles allow you to lift it easily. Two movable buckles on the back of the bag help you adjust the bag to the right position according to your bike rack. The 360-degree rotatable bracket is used to secure the bag to the sidebars to prevent the bag from bouncing out. It can be easily adjusted without additional tools which become a real quick release system. The humanized design of all these details not only makes your travel more convenient, but also greatly reduces the possibility of safety accidents.
Rear Rack Bag
Unlike the waterproof large-capacity bag, the Travel eBike Trunk Bag is placed on the bicycle rear rack. The expanded capacity is as large as 35 liters, which is larger than the waterproof large-capacity bag. It is not only waterproof and heat resistant, but also has a certain resistance to tearing. The Velcro quick release design can be easily and safely mounted on all types of bicycles. And it also has a reflective strip design to ensure safe riding.

Most importantly, for waterproof large-capacity bags and rear rack bags, we recently have a great discount. When you buy two or more, use the code "2Bags" to enjoy a $30 discount! If both you and your friend need one, then buying two is the most cost-effective! Don't miss this great opportunity, click on the link in the article to get them!
If you want to make your cycling trip safer and easier, then the five electric bicycle accessories mentioned above will bring more joy to your cycling. The helmet guarantees your personal safety, while the chain lock can prevent the bicycle from being stolen, the repair tool can deal with bicycle breakdowns, and the bag can carry your daily necessities. Of course, considered the various situations that may arise during your cycling trip, if you have other requirements, we also have many different electric bicycle accessories to meet your various needs. Confused? Just click the links to have a look!
---
---