Electric Bike Helmet Buying Guide 2020
---
Cycling is a pleasurable activity, it not only protects the environment, but also strengthens your body. However, no matter where you are riding, whether on the mountains or on the roads, an electric bike helmet is always one of the most essential bicycle accessories. In recent years, with the rise of e-bikes, which are faster than conventional bikes, the importance of helmets has become more obvious. According to statistics, among a majority of bicyclists killed in crashes, head injuries are the most serious injuries. Helmet use has been estimated to reduce the odds of head injury by 50 percent. Although helmets are just one of the bicycle accessories, there are many factors to consider if you want to buy a safe and comfortable helmet. Here we list some points to pay attention to when buying an e-bike helmet to help you make a choice.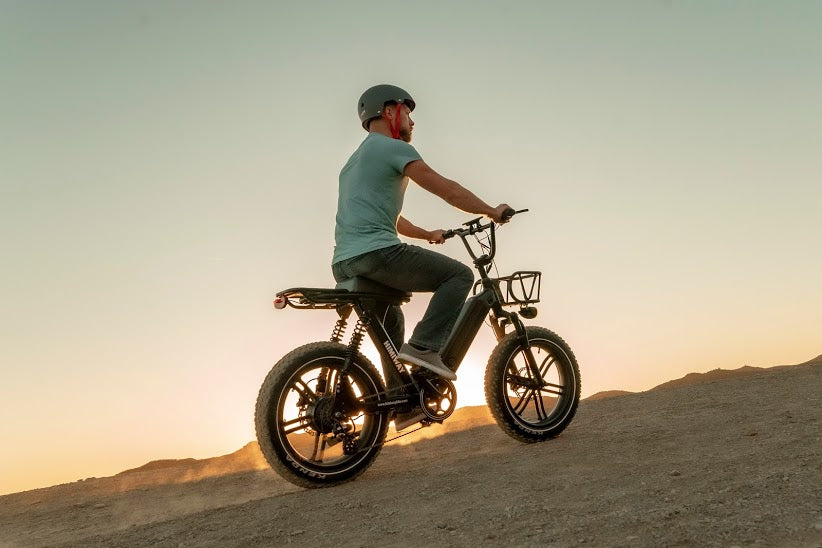 What is a Good Ebike Helmet
We all know that safety is an important indicator of whether a helmet is of good quality, but how can it be regarded as a safe helmet? What is the definition of a good electric bicycle helmet? As far as we are concerned, a good helmet should include the following points:
The most important thing about a good helmet is to make you feel comfortable when wearing it. As cycling consumes energy and causes sweating, the inner filling material should be soft, sweat-absorbing, and better ventilation. This can reduce the discomfort during riding and allow you to breathe fresh air. For example, the Himiway electric bike helmet shell adopts a hollow design, and the inner lining is equipped with insect nets, which can prevent insects from flying into the helmet while retaining good air permeability, thereby reducing the occurrence of safety accidents.
The helmet you buy should fit your head, so as to maximize the effectiveness of the helmet and provide good protection to your head. Some brands of helmets provide different sizes, usually divided into three types, large, medium, and small. Customers can freely choose different sizes according to their own situation. Although Himiway's helmets are not currently available in different sizes, the head circumference of 49~59 cm is definitely suitable for most people. And in the future, we will consider launching helmets of different sizes to meet the needs of more people, so stay tuned!
Weight is also one of the criteria for measuring the quality of a helmet. A lighter helmet will give you a better riding experience. Especially when you ride for a long time, wearing a heavy helmet can easily make you tired.
As for the material selection, the helmet material should be strong, durable, and have safety certification. Only in this way can the head be protected well when an accident occurs. Himiway electric bike helmets are made of Expanded Polystyrene, which is a kind of light polymer, with a total weight of only 330g, not only lighter in weight, but also has high mechanical strength and is very durable. In addition, the helmet has also obtained CE safety certification, please just rest assured to buy.
Helmet Types
Currently, there are four common types of helmets on the market: road, mountain bike, full face, and BMX helmets. So what is the difference between them?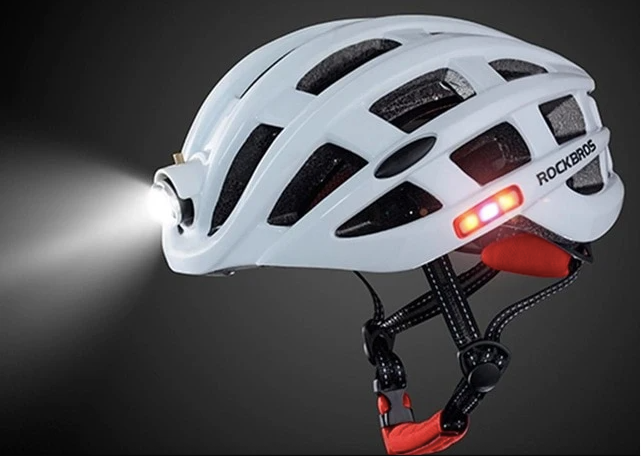 Road helmets usually have a relatively light weight and are more aerodynamic, thereby reducing air resistance during riding. There are not too many requirements when buying a road helmet, just choose a lightweight and comfortable one. Himiway e-bike helmet is a road helmet, which is light and ventilated. The lights on the front and both sides also improve safety performance, which is suitable for most situations and meets daily commuting needs.
Unlike road helmets, the design features of mountain bike helmets are more focused on ventilation, because riding on the mountain is more laborious and easy to sweat. Besides, mountain bikes also provide extra coverage, and there is extra protection on the back of the helmet.
This is a helmet that can provide comprehensive protection for your entire head. It extends the coverage to your chin and mouth. With good ventilation and safety performance, it is more suitable for professional athletes and bicycle enthusiasts. But correspondingly their weight will be heavier and the price will be higher.
BMX helmets usually have a simpler design and are not as aerodynamic as other types of helmets, so the ventilation is not so good. It is more suitable for slower riding and skating. However, it is also loved by many people because of its good looks.
Electric Bike Helmet Safety Standards
Different countries and regions have different safety standards for electric bicycle helmets. We have listed some standards below for your reference.
This is the European Union implementation standard, suitable for most European countries. However, because these types of helmets do not meet the minimum requirements of the United States, they are not allowed to be sold in the United States.
A standard set by the US Consumer Product Safety Commission, only helmets that pass this standard can be sold in the US market.
A bicycle helmet standard established by the Snell Memorial Foundation that is very similar to the US CPSC standard.
The most stringent bicycle helmet standard, so far few products have been certified.
The downhill helmet standard established by ASTM International (formerly the American Society for Testing Materials), stricter than most helmet standards.
Also established by ASTM International, similar to ASTM F1952.
This is the standard for electric bicycle helmets, which is stricter than any conventional bicycle helmet standard.
Since we started the electric bike business, the safety of our customers has always been our top concern, and we have also received customer suggestions on some social media. Therefore, Himiway has never stopped sharing knowledge about safe riding.  Now, do you have a general understanding of how to choose a comfortable electric bike helmet? In addition to sharing articles, we also launched some e-bike accessories that are helpful for safe riding, such as ebike helmets and ebike mirrors. Are your bikes equipped with them? If so, please put on your helmet and have a wonderful cycling trip with your Himi!
---
---