3 Different Bike Child Seats You Should Know
---
When spring comes, riding an electric bicycle to have a spring outing is a very pleasant thing at that time, especially if you carry your baby with you. Also, riding with kids can cultivate their interest in outdoor sports such as cycling, and help them develop good habits from an early age. However, since kids are too young to maintain their balance, which makes them easy to fall off the seat, bike baby seats are a good solution to this. There are currently three types of bicycle child seats on the market: Rear Child Bike Seats, Mid-Mounted Child Bike Seats, and Front Child Bike Seats. And each of them can provide good protection for your children. If you want to spend an unforgettable cycling trip with your baby, it is a wise choice to buy a child bike seat such as Himiway Bike Child Baby Rear Seat. Here we listed some tips on how to select a suitable baby seat so that you have the chance to enjoy the parent-child time.
Rear Child Bike Seats
The rear child bicycle seat indicates the seat attached to the back of the bicycle and is the most common bike child seat. And according to the different installation positions, it is usually divided into the following three sub-categories.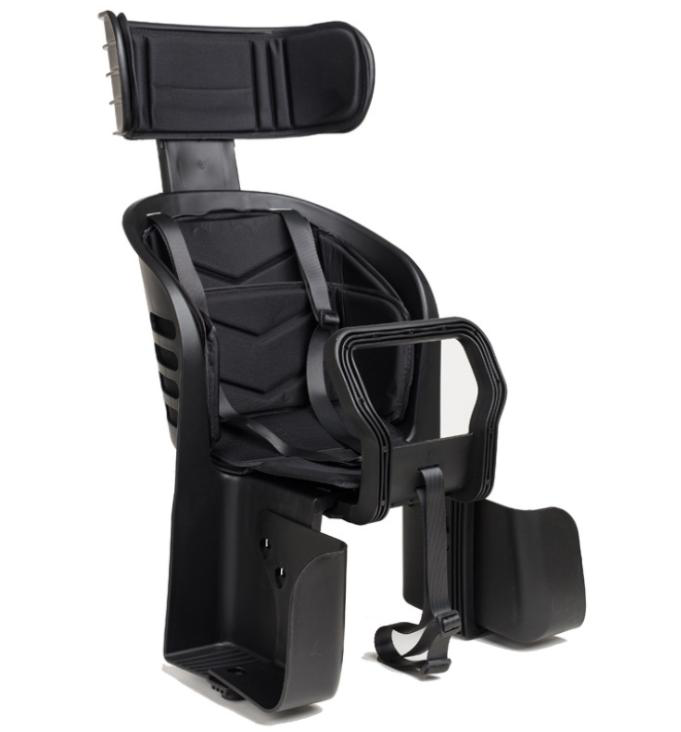 Cantilevered Rear Child Seat
This kind of child seat refers to a seat that being installed on a bicycle seat tube. It comes with a mounting clamp, which is usually made of plastic, to clamp the seat tube and bolted to the tube. There are two small holes on the plastic clamp for inserting the metal bracket connected to the child seat so that the seat can be supported. The bracket has a certain degree of elasticity and can provide some shock absorption effects. Disassembly is not a difficult task, just use the quick release system to loosen the bracket to quickly dismount it.
The advantage of the cantilevered rear child seat is that it is easy to install and disassemble, and the child can be less affected by vibration when riding. However, not all bicycles are suitable for this seat. If there are obstacles like external cables around your ebike seat tube that hinder the installation of the chair, then you may need to choose other types of child seats. What's more, Step-Thru ebikes may not be suitable for this, because the lack of a top tube makes their frame not so strong to load the weight of a baby, which may cause unexpected accidents. So please confirm whether your ebike is suitable for the cantilevered rear child seat before making your choice.
Rack Mounted Rear Child Seat
The rack mounted rear child seat is placed on the rear rack of the bike, so if you already have a matching rear rack for your bike, you can directly use the safety strap on the child seat to connect the bike seat tube and the child seat. If not, then you are required to get a rear rack for your bike first. Fortunately, the rear rack is included in the free accessories when you buy any Himiway ebike. In this regard,  we specially designed the Himiway bike rear rack child seat to meet the needs of some customers.
This child seat is easy to use, you just need to attach the safety strap to the bicycle frame tube then fix it. But if you don't have a rear rack, there may be an extra cost. Also, please make sure your bike is compatible with the child seat you are going to buy.
Anchor Point Rear Child Seat
This is the last type of rear child seat. Usually, the anchor point rear child seat needs two anchor points, one is located on the bike seat post to prevent the seat from sliding, and the other is on the seat stay, which can provide stronger support. The anchor point rear child seat can be said the combination of cantilevered and rack mounted rear child seat, it can provide more support than cantilevered rear child seat and does not require holes to insert the bracket. Its disadvantage is that the installation is slightly more troublesome, but the quick release system makes disassembly still easy.
Now, let us summarize the common pros and cons of all rear seats. Their advantages are:
Most rear seats can be reclined to make the baby feelsmore comfortable when sitting.
Prevent more wind from entering, better for their health.
Generally, rear seats have a longer service life than other types of child seats.
And the disadvantages:
Because of your worries, you will have to turn around to see your children from time to time to check their safety.
Difficulty communicating with your baby, especially when it is windyor it is noisy around you.
It may take a while to adapt to the weight changes of the bike brought about by this child seat, and some people may find it challenging to keep balance.
Mid-Mounted Child Bike Seats
The mid-mounted child bike seat is installed between the handlebar and the adult seat, that is, above the top tube. So this requires that the distance between your handlebar and the saddle is wide enough to install a child seat. There are two styles of mid-mounted child seats, recreation and mountain biking. Recreational seats are usually only suitable for daily riding, while mountain biking adapts to both.
Here are the pros of the mid-mounted child bike seat:
Allows you to take care of your child and communicate with him easier.
Your child can have a wider view and better practice riding from the perspective of a rider.
The cons are:
Child seats will make it difficult for you to get on and off the bike.
Kids are more susceptible to wind, and strong light is also a problem when riding at night.
The age of the child is preferably over two years old.
Front Child Bike Seats
Front Child Bike Seats are widely used in Europe and gradually accepted in North America. It connects the child seat to the head tube (handlebar) or seat tube through an L-shaped bracket. Similar to a mid-mounted child seat, it usually requires enough space to mount the seat. Therefore, the front child seat is usually designed to be smaller in size and lighter in weight, because the excessive weight may cause potential hazards. When your baby sits in this type of seat, you can easily talk to him and pay attention to his situation at any time, and you can explain the road conditions to your child in real-time and teach him some riding skills.
Of course, the front child seat also has some inevitable shortcomings. If the seat is connected to the head tube, it may cause some slight steering and balance difficulties for the rider. And your child will be exposed to the wind and more likely to get injured when an accident happens. What's more, the front child seat is not very friendly to riders who are not so tall, because it will bring some obstacles to getting on and off the bike and viewing. And we recommend that the age of the child is between 9 and 30 months.
The knowledge sharing this time almost ends here. Riding with children is indeed a pleasure, but you must pay attention to the safety of both you and your child when riding, be sure to wear safety helmets for yourself and your child. Front and mid-mounted child seats will make it more convenient for you to look after your children, and if you want to teach them some riding techniques, they will be your best choice, but their potential dangers cannot be ignored. The rear-mounted child seat could be safer and more comfortable for the child to sit. The disadvantage is that you cannot notice what is happening behind you. In some ways, bicycle trailers may sometimes be a good choice. Anyway, all three types of bike child seats have their own advantages, customers should shop around to see which one meets their needs.
---
---