Electric Fat Bikes: A Different And Useful Gift To Your Mom
---
As a child, when you were still sleeping in the bed, your mom had already prepared breakfast; when you were still rolling and playing in the park with your friends, your mom had already washed your clothes; when you planned to go camping, your mother has already made a list for you to prepare ......
Mother is the greatest person in the world, so there is Mother's Day. Mother's Day is a holiday to thank mothers. Generally, everyone will prepare a gift for their hard-working mothers on this Day. This holiday first appeared in ancient Greece, while modern Mother's Day originated in the United States, and the time is on the second Sunday in May - this year's Mother's Day is May 10. The hardworking mothers usually receive gifts on this day, such as a bunch of carnations. And how are you going to thank your mother? - A kiss full of love, a hug full of gratitude, or a very different gift? Now you have a better choice, you can buy your mom a Himiway electric fat bike as a gift for Mother's Day.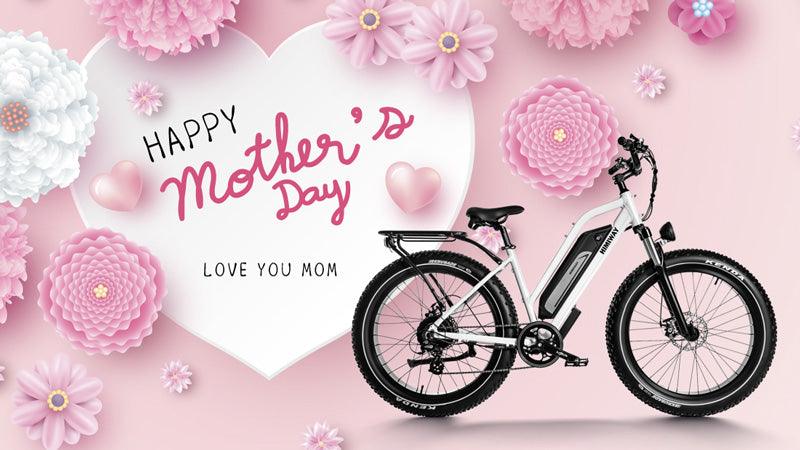 Why don't you choose Himiway Cruiser Step-Thru as a gift?
Himiway electric bikes will take your mom to go farther away (it can run 35 miles on a single charge without a pedal-assist system), and you don't worry that they are too heavy to carry if you buy a lot of things(its total payload capacity is up to 350 pounds). At the same time, you can choose to exercise(use pedal assist or only use pedal) on the road when you get around, or you can choose to give your legs a rest (just rely on pure electricity). Wow, this is the best Mother's Day gift!
Alvin recalls, "When I was a kid, my mom was the person who accompanied me for a long time."Whenever he was bored, whenever he wanted to get around, whenever he wanted to go shopping, when he wanted to play with his friends, his mother often took him out by bicycle. What's more, in the warm spring or the cool autumn, his mother always took him to shade under the tree near a river, explore in the woods, visit in the zoo, and pick up shells on the beach ... The bicycle accompanied him the whole childhood, which gave him a lot of opportunities to get close to nature.
"That time is the best memory for me", Alvin said, "so I want to buy a wonderful bike for my mom when I grow up, which I think is a different and useful gift used to carry his childhood memories. But you know, times change so quickly, and now there appear electric bikes. Compared with ordinary bicycles, their appearance is very similar, and the most difference is that electric bikes come with motors, so e-bikes are more convenient. If you want to ride a bicycle, you can turn off the power; if you want to go faster, you can use the pedal-assist system; if you want to give your legs a break, you can use pure electricity without pedaling. They have lower maintenance costs, are more environmentally friendly, and operate healthier. All in all, it is no wonder that electric bicycles are becoming more and more popular now because they are indeed one of the best choices for getting around."
If you buy your mom an electric fat bike, your mom can ride the bike to relax when she feels tired. With feeling the wind on her face, fresh air and clear sky, the smile will reappear on her face; if you buy your mom a Himiway all-terrain electric fat bike, your mom can go to the forest to pick wildflowers, go to the grassland to watch the sunset, or go to visit her sister who is far away from her home for playing happily or just small talk face to face.
In the end, I want to say, whether your mom is 30, 50, or 70, she has always been the most beautiful goddess in our hearts, and we love her forever. When you are grateful for your mom, every day is Mother's Day. Anyway, Himiway electric bicycles are the best holiday gift.
---
---