E-bike Laws in the United States
---
With an increasing number of people purchasing electric fat bikes, It's time to remind you of the laws and regulations related to e-bikes. The rules for e-bikes on public roads, sidewalks, and pathways are under state jurisdiction and vary from state to state. It means that riders need to follow the local traffic rules where they live. Some regions in the United States have yet to clarify the laws of e-bikes, so, today we are going to talk about the rules in several states who have made it clear.
The federal Consumer Product Safety Act defines a "low-speed electric bicycle" as a two or three-wheeled vehicle with fully operable pedals, a top speed when powered solely by the motor under 20 mph (32 km/h), and an electric motor that produces less than 750 W. All of them have to be under both of the federal regulations and local regulations.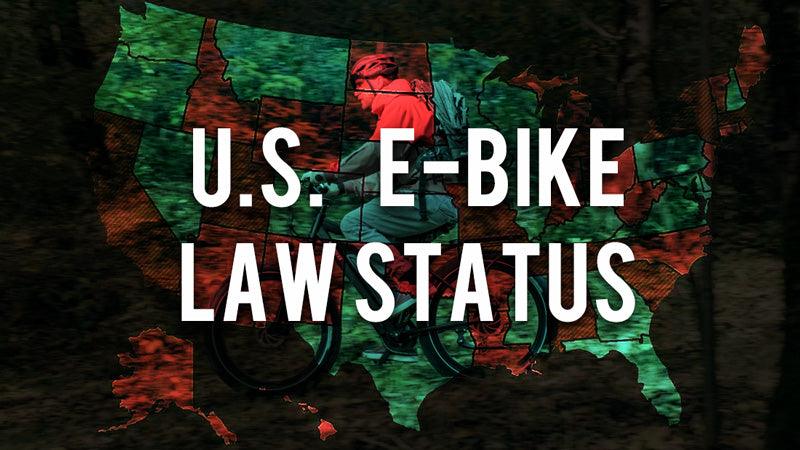 Below is a chart demonstrating some of the basic laws for e-bikes in several states in America. Further down in the article, you can find more information in each area.
Max Speed: Maximum speed when powered solely by the motor.
Max Power: Maximum motor power, or engine size, permitted.
States
Max speed
Max power
Helmet
Min age
Driver's license
Arizona
20
48cc
No
None
No
California
20
750W
Class 1 dependent
Class dependent
No
Colorado
20
750W
No
None
No
Idaho
30
< 2 brake hp
No
16
Yes
Montana
30
50cc
Under 18
No
New Mexico
Under 18
No
Nevada
20
750W
No
No
Oklahoma
20
1000W
Under 16
16
No
Oregon
20
1000W
Under 16
16
No
Texas
20
None
No
None
No
Utah
20
750W
No
8 (accompanied by parent/guardian),
14 (unaccompanied)
No
Washington
28
750W
No
16, for class3
No
Wyoming
20 mph&28 mph for class3
50cc
Yes
There are four classes of e-bike in the United States.
Class 1: Pedal-Assist,
Class 2: Throttle on Demand,
Class 3: Speed Pedal-Assist,
Class 4: Moped or Motorcycle.
Arizona:
Under Arizona law, unless specifically prohibited, electric bicycles may be operated on multi-use trails designated for hiking, biking, equestrian, or other non-motorized usages, and upon paths designated for the exclusive use of bicycles. No operator's license is required, but anyone operating a bicycle on Arizona roads must carry proof of identity.
California:
In California, e-bikes are regulated like bicycles. The same rules of the road apply to both e-bikes and human-powered bicycles. E-bikes are not subject to the registration, licensing, or insurance requirements that apply to motor vehicles.
Colorado:
Ebike definition in Colorado follows the HR 727 National Law: 20mph (30km/h) e-power and 750W max. Legal low-powered e-bikes are allowed on roads and bike lanes and prohibited from using their motors on bike and pedestrian paths unless overridden by local ordinance.
Montana:
Since April 21, 2015, mopeds have been reclassified as bicycles in Montana and do not require a driver's license, therefore, you could refer to the bicycle law.
Nevada:
As of May 19, 2009, Nevada amended its state transportation laws to explicitly permit electric bicycles to use any "trail or pedestrian walkway" intended for use with bicycles and constructed with federal funding, and otherwise generally permits electric bicycles to be operated in cases where a regular bicycle could be.
New Mexico:
New Mexico has no specific laws concerning electric or motorized bicycles. MVD rules treat motorized bicycles the same as bicycles, requiring no registration or driver's license.
Oregon:
Oregon Law defines an electric-assisted bicycle as an electric motor-driven vehicle equipped with operable pedals, a seat or saddle for the rider, no more than three wheels in contact during travel. In addition, the vehicle must be equipped with an electric motor that is capable of applying a power output of no greater than 1,000 watts, and that is incapable of propelling the vehicle at a speed greater than 20 miles per hour on level ground.
Texas:
In the State of Texas, electric bicycles are defined as bikes that are powered by an electric motor that has a top speed of 20 MPH on level ground. You don't need a driver's license or anything else to ride one, but you also can't drive on highways.
Utah:
Utah law identifies E-bikes as a traditional pedal bike that is propelled by human power and equipped with an assisting motor. E-bikes are not subject to the registration, licensing, or insurance requirements that apply to motor vehicles. E-bikes are allowed on bike paths but not allowed on sidewalks.
Washington:
In Washington, all classes of electric-assisted bicycles may be operated on a fully controlled limited-access highway. Class 1 and 2 electric bicycles can be used on sidewalks, but Class 3 bicycles "may not be used on a sidewalk unless there is no alternative to travel over a sidewalk as part of a bicycle or pedestrian path." Generally, a person may not operate an electric-assisted bicycle on a trail that is designated as non-motorized and that has a natural surface unless otherwise authorized.
An Ending Note
Because of more limitations on using internal combustion engines in the US, more people have turned to purchase e-bikes. It is required to inform the local laws and traffic rules when using our Himiway electric fat bike.
---