Why You Should Buy An E-bike for Your Parents?
---
 With old age, there comes a lot of free time. Due to various health issues and reduced mobility, most seniors don't have a lot that they can do. If you have older parents or maybe grandparents or relatives, you would know that this can often make them depressed. This is why you should buy an e-bike for seniors.
E-bikes are a surprisingly wonderful gift for seniors because of the major benefits they provide. It takes less strength to ride them as they are electrically propelled. This makes them ideal for adults over the age of 50 who find it difficult to keep up with intense physical activity. It's a great mood booster and has several health benefits.
It might be hard for you to imagine your parents biking at this age. But once you know about all the benefits biking can have on a person, you'll be convinced. Let's dive in!
Benefits Of An E-bike For Seniors
An e-bike will have an integrated electric motor to help propel the bike forward. So they do not take as much physical effort and energy to ride. This makes them a great activity for older people. Biking outdoors can be a great way to exercise. It can help lighten your mood and also help prevent diseases while making existing ones better.
Sounds too good to be true, right? Here are all the ways an e-bike can help older people.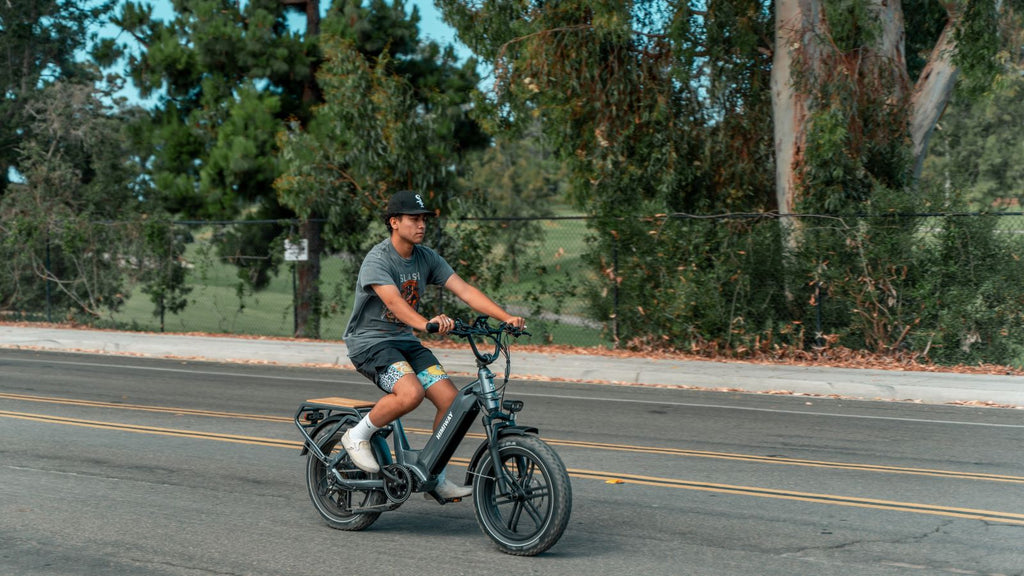 Perfect Exercise Activity
A lot of people have the misconception that people over the age of 50 shouldn't exercise; that it's not safe. The World Health Organization (WHO) recommends that older people should get at least 150 minutes of moderate aerobic physical activity. And activities like cycling with ebikes are a great option.
However, for people even older or people with an underlying condition, even biking can be strenuous. This is why e-bikes are so much better for elders. They don't put extra stress on your muscles and seniors can get their physical activity without any pain or side effects.
Can Help Prevent Diseases
Since e-biking is an aerobic exercise, it can help improve cardiovascular health. This involves your heart, lungs, and even your blood flow. Aerobic exercises can help prevent serious diseases from occurring. You'll be much safer from heart disease, diabetes, and even some forms of cancer.
A study done under the University of Basel suggests that riding an electric bike is almost as beneficial as riding a traditional bike in regards to its health benefits. Regular rides can help improve blood pressure, metabolism, and lung capacity.
Perfect For Rehabilitation
E-bikes can also be great for use in rehabilitating motor functions. People with diseases like Parkison's disease may greatly benefit from regular e-bike exercise. The assisted motion of e-bikes helps to manage motor function diseases and can even help improve the symptoms.
This is great for a lot of neurological diseases, as it helps boost brain activities without being too hard on the body. It allows older people with diseases to live an active lifestyle that does not fatigue them easily as a regular bike would.
Makes Cognitive Functions Better
Physical activities help improve cognitive function in the brain and e-bikes are no different. Cognitive functions refer to the processes in our brain that relate to processing information and memory.
Riding an e-bike helps improve blood flow to the brain, thus improving mental functions. Greater blood flow can promote the regeneration of cells in the hippocampus. Regularly riding an e-bike is directly related to improving cognition, as one study found.
Great Mood Booster
A lot of senior citizens don't get to move around as much. They don't drive or go out and this can often get very depressing. Riding an e-bike can give them a sense of freedom and speed that they won't get elsewhere.
This is known to produce endorphins in their brains and make them happier. Not only are they in a great mood after riding an e-bike, but it can also increase their confidence. So it's great for mental health. Being out in the sun and taking in the scenery while you bike can be a great activity. It also gives exposure to Vitamin D from the sun.
And the best part is it's not as strenuous as riding a traditional bike. It won't leave the joints in pain afterward and cause fatigue. Fresh air, freedom, and a good ride can bring about mental clarity and peace.
What is a Good E-bike for Seniors?
When buying an e-bike for your parents, comfort and safety should be your primary concerns. A good e-bike should have a comfortable saddle and frame and should have sturdy frames and bright LED bike lights for better vision. They should be easy to mount. The batteries should be long-lasting and look for brushless motors for good acceleration.
You can check out our Moped-Style Electric Bike for a good sturdy frame, that's low and comfortable. It also comes with Dual Suspension and Hydraulic Lockout which makes it completely safe and comfortable. It also has fat tires making it even sturdier.
There are also other fat tire options available like the Fat Tire Electric Bike. It comes with a 750W Brushless motor that makes going over rocky terrains much smoother. You can even adjust the pedal assist level to make your experience smoother.
No matter which one you end up choosing, all Himiway e-bikes come with LED lights and amazing features that make them amazing to use for older people. It also comes mostly assembled, with a tutorial for the rest. So your parents won't have any trouble assembling the bike either!
Conclusion
Now that we've gone over all the reasons why you should buy an e-bike for your parents, you can decide for yourself. It's a great present that your parents will thank you for years to come. And not only that, anyone can ride an e-bike and get plenty of benefits from the activity. So it's a perfect multi-purpose purchase!
---
---