Himiway Story: Witness 50 years of the love story
---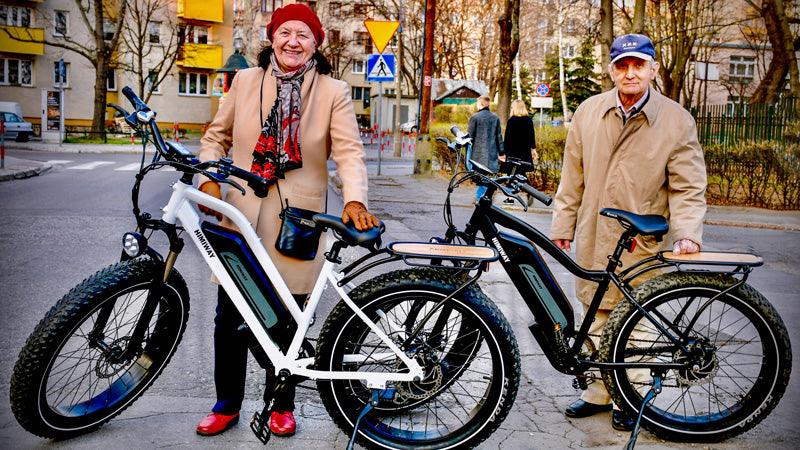 Ah, young love. Although it may be perceived as coated in sweet naivety, we often forget it really can be as pure and beautiful as a long-term "adult" romance. Rory Newbrough and Danielle Drouin Powers turned a long-distance riding into a lifelong commitment. We are honored to have sent them Himiway Cruiser and Himiway Cruiser Step-Thru on their 50th wedding anniversary.
"Maybe you can't believe that our love started on a spring trip. My wife was 19 years old and I was 22 years old. We chose to travel on the same day without an agreement. My friend and I raced on a tree-lined path. Whoever reached the end of the road first was an intersection. We started our race after a countdown of 321, this road is about 500 meters, and we can play to the fullest. I rode very hard, so did he. Until the last 100 meters, I sprinted with all my strength. Obviously, at the last moment, a white bicycle rushed over. I squeezed the brakes hard, but we collided, but not very serious." Rory Newbrough said. "I was very angry at the time, I fell very painful, I looked up to see a thin boy, he kept his head down to apologize to me, I stood up and scolded him. My friend Dorothy also accused him of fiercely, and in the end, we changed from the initial abuse to an invitation to play together. Now think about it, it was really pure, we were all like children." Danielle Drouin said.
"I blushed when I saw her then, and I thought it was like it. I had to ask her out for different reasons every day for the next week. Our favorite thing was to ride on the trail at dusk. Not glare is mild." Rory Newbrough said.
"I did n't know why he came to me every day, but we were very happy every day, until one day he told me that he liked me, and then I also liked him, we went through two months from acquaintance to being together Time, he was really nice to me."Danielle Drouin said. "Time passed quickly, and 50 years passed in the blink of an eye. During this period, we went to many places by bike. We love to ride, but now we have no physical strength when we were young. So we decided to pick an electric bike for us on the 50th anniversary. We watched a lot of websites and our budget was not very sufficient, so we chose the Himiway electric bike. When we received the ebike, we were surprised. This is really a great electric bike. We saw a similar electric bike in the offline bike shop for about $ 1,900. I am very happy that we chose Himiway." Rory Newbrough said.
"Yes, it took us half an hour to assemble the Himiway e-bike when we received it, and we tried it. The other performances are very good, thank you Himiway for providing such a good bike." Danielle Drouin said.
---
---