Himiway Cobra Pro Review: The Ultimate Specifications
---
As you may know from the recent announcement, the team at Himiway has been hard at work on the launch of four exciting new models. As the world's premier long-range e-bike expert, Himiway is looked to by the industry to set the standard for quality electric mobility. We continued this tradition with new models that capitalize on recent improvements in technology, sustainability, performance, and style.
This fourth and final review in the series will focus on our most elite e-bike yet: the Himiway Cobra Pro. We've combined all the technology from the standard Cobra model with additional professional level components to create our most powerful e-bike yet.
Named for the King Cobra found throughout Asia, the Cobra Pro was the perfect animal for this intense and bold take on the traditional mountain e-bike. Float over the road with a softtail design, an upgraded mid-drive motor, an improved suspension, our widest tires yet, and the new long-range battery we've included with all our latest models. You'll be ready to handle any situation like a professional rider with the Himiway Cobra Pro.
Let's dive into all the different elements we've upgraded on the Cobra Pro to make this amazing bike a reality:
Main Specs of the Himiway Cobra
Longer Range - 80 miles (estimate)
New Battery -48V 20Ah lithium battery
Upgraded Mid-drive Motor -1000W high-end motor
Carrying Capacity -400 pounds
Bike Weight -88 pounds
Display –Full color LCD with USB charging
Tires -26" x 4.8" Kenda fat tires
Gears -Shimano 10 Speed Gear Shift System
Brakes - Hydraulic
Frame Material - Upgraded6061 Aluminum
Colors - King Cobra (Black) or Forest Cobra (Multi)
Total Bike Length -6 inches
Handlebar Height -9 inches
HandlebarLength -6 inches
StandoverHeight - 32 inches
Main Features of the Himiway Cobra Pro
Upgraded Mid-drive Motor
Serious e-bike fans will know that the placement, quality, and style of motor can make or break an e-bike. We've taken that knowledge one step further by giving the Cobra Pro a state-of-the-art mid-drive motor – our biggest leap forward in motor technology yet.
Not only does a mid-drive motor command the top spot in motor rankings, but it does so for multiple good reasons. A mid-drive motor provides premium ride-quality thanks to the motor being located directly beneath your center of gravity. This natural positioning allows acceleration to feel smooth and balanced.
Mid-drive motors take advantage of different gears to make your e-bike more efficient when climbing hills. The rider may choose the correct gear to shift into at the correct time. This gives control to the rider and efficiency to the bike. As long-range e-bike experts, the design team knew they had to take advantage of the additional range mid-drive motors can provide due to their ability to be more precise and tuned when switching gears.
The final benefit we see from the mid-drive motor in this model is an easier way to access and maintain your tires. Without a heavy and bulky geared hub motor in the center of your tire, swapping out a tire or using different sized tires becomes a breeze.
We've written about the differences between mid-drive motors and geared hub motors before. Check out that detailed article for more information, but it is important to note that geared hub motors are not bad, they are just not the top-of-the-line when it comes to professional e-bikes. Because we set out to make our highest-quality e-bike ever, a mid-drive motor was a perfect choice for the Cobra Pro.
Improved Battery Performance
The best motor needs to be paired with the best battery and that's just what we did here. The Cobra Pro clocks in at 60-80 miles of range on a single charge thanks to the upgraded battery technology we've been able to incorporate. We've found that it only takes 7 hours to charge the battery to full power. This 960Wh battery improves upon the range, stability, and safety of our e-bikes. A single charge can last up to 60 miles on only electric power and 80 or more miles with our pedal-assist technology.
Looking stylish, riding fast, and conquering the mountain is fun, but we wanted it to be sustainable, too. More range per charge means less charges overall and that's great news for the environment. The battery will maintain 80% capacity after 1,000 charges which is also great news because your bike battery will last longer and won't simply fill up a landfill in a few years like with other brand bikes. 
Softtail Suspension with Four-Bar Linkage
To achieve maximum comfort, the Cobra Pro uses a softail suspension system which has the front fork suspension as well as a mid-suspension. This gives you a soft and comfortable experience on even the most extreme of terrains.
Updated Hydraulic Brakes
The Himiway Cobra Pro comes equipped with hydraulic brakes. Most bikes opt for traditional mechanical disc brakes which are fine for pedestrian situations. But to really go off-road with the big boys, hydraulic brakes are a must-have. The advantages of hydraulic brakes are a longer life with less maintenance needed and improved stopping distance for more safety in traffic or on epic trails where you need it most.
Wider Fat Tires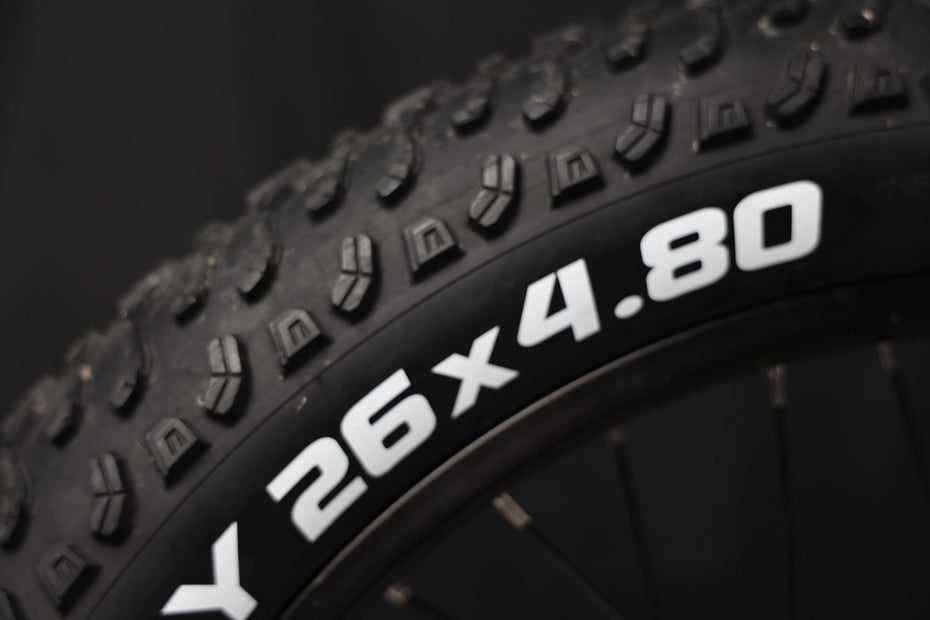 Wider tires have been used on the Cobra Pro to increase traction and grip in any environment. Our other models have 4-inch fat tires, but we wanted to go wider for the Cobra Pro since it will be used by professionals and avid mountain trail riders. Therefore, we've included super fat 4.8-inch tires to give even more comfort, traction, and flexibility during your ride.
Differences between the Himiway Cobra Pro and the Himiway Cruiser
The difference between two e-bikes is never just the price. The difference is in how often you use your e-bike's features, how much you enjoy your ride, and how tailored you want your bike to be to your needs. While the Cobra Pro does come with a higher price tag than all our other e-bikes, it is worth every penny for those riders that want the ultimate e-bike experience. Let's check out some of the differences:
The first difference in the Cobra Pro compared to our other bikes is the introduction of a 10-speed gear shift system which improves efficiency and power. Many of our other models come equipped with a standard 7-speed gear shifter.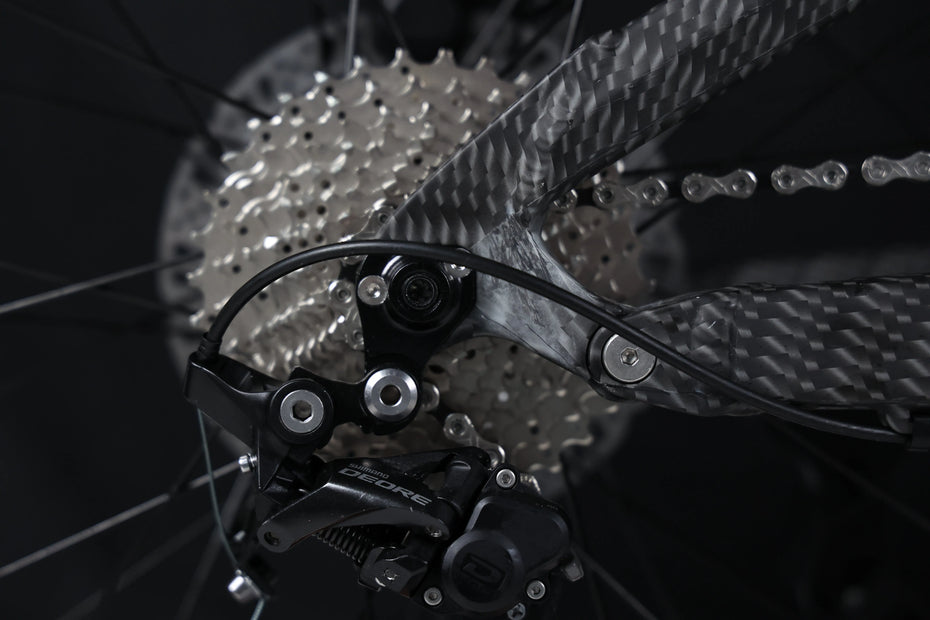 Working with the upgraded shifter is, of course, that mid-drive motor we mentioned in the features. This revolutionary piece of technology removes the possibility of the jerking motion that can occur on some e-bikes when taking off. The joy of naturally accelerating in a smooth way cannot be overstated. Providing strong and continuous power output is what mid-drive motors are known for by experts in the industry. This mid-drive motor is also one of the main differences between the Cobra and Cobra Pro. The standard Cobra comes equipped with a geared hub motor.
Another update we made to the Cobra Pro compared to our Cruiser model is the introduction of additional color options for you to choose from. The Cobra Pro comes in a clean carbon black or forest snake ink. Off road enthusiasts have long desired the ability to customize their bike and now you can set yourself apart in the streets or on the mountain.
Speaking of colors, the Cobra Pro is our first bike to use a full color LCD to monitor all the metrics and performance you want in your ride.
A big difference is also the four-bar suspension linkage system of the Cobra Pro. The Cruisier does come with suspension, but it is only found in the front fork and not in both like locations like on the Cobra. Both suspensions assure not only your safety but also your comfort on any terrain.
As we've mentioned, you'll be able to travel further with the Cobra Pro than with the Cruiser on a single charge thanks to upgraded battery tech.  
Most e-bikes with mid-drive motors don't sell for less than 5,000 or 6,000 thousand dollars. Coming in well below that at $3,999, the Cobra Pro is an impossible bargain to beat. You can't go wrong with the Himiway Cruiser or any of our other similarly affordable models, but for the premium e-bike experience, you'll want to kick up it a notch with the Cobra Pro.
---
---