Himiway Brings You a New Valentine's Day Experience
---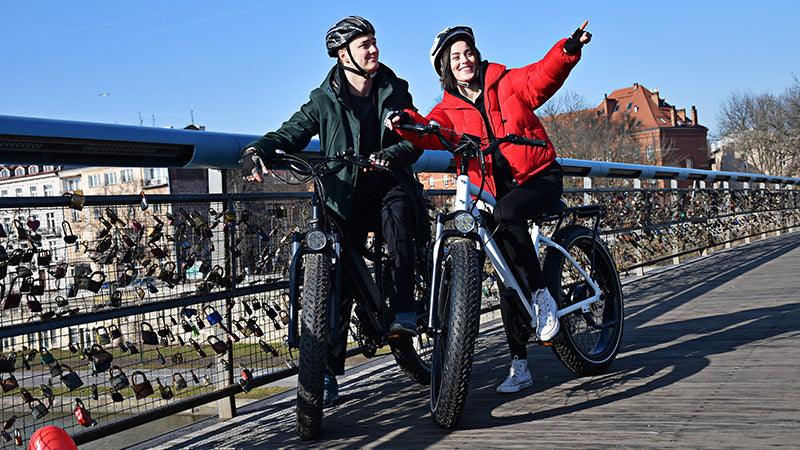 Are you also from one of those people who is waiting for Valentine's day to gift your partner something special? There are couples who love to do a long ride in the car or on the bike but we would like to suggest you do something different this time.
Think of the moment when you and your partner are riding on a HIMIWAY electric bike in the evening under the blue sky. Think of the time passing slowly and with second the love of both of you comes to no end.
In addition to that, your partner would stay fit and healthy. Riding a bike daily has a lot of benefits and with the help of which one can save the environment and the money too.
So without thinking so much book now one of the best valentine's day gifts i.e. Himiway electric bike. You may be a little confused that from the numbers of models which one would be better your partner.
Below we have included two best electric bikes, choose one out of them.
1.Himiway Cruiser
If you are looking for an affordable electric bike to gift on valentine's day then nothing would be better than Himiway cruiser. This bike comes with off-road capabilities and commuting utilities.
With the help of its fat tires, suspension fork, up riding position, you or your partner would get a comfortable ride. And with each ride his/her love for increase a little bit more. To provide your electric bike more energy and range, the Himiway Cruiser comes with a tremendous 840 watt-hours battery, 750-watt hub motor and 80nm of torque.
2.Himiway Cruiser Step-Thru
This is another Valentine's day gift which you can give to your partner. Its an affordable and remarkably accomplished electric bike that will blow the mind of your partner. For better support and friction purposes, this Step-Thru comes with 26"*4 unique tires.
In case someone wants to sit with you then he/she can turn the rear rack into the seat which comes with footrest and skirt protector. For the excellent stopping power and control is has large 180 mm disc brakes.
There are several reasons why Himiway electric bike is the best electric bike gift on valentine's day.
It will help your partner to cope up with slow traffic around the urban areas.
Electric bikes help to increase the core muscle strength of the body and also
help to increase the metabolism of the body.
Many health benefits include improving the blood circulation of the body and releasing stress from the pressure cooker situation in life.
A way better and smarter choice, which gives you and your partner satisfaction of contributing a little bit for the environment.
Make this Valentine's Day joyful as well as help to reduce the carbon footprint.
"Himiway" a reliable brand
Some of the best choices to make from "Himiway"
On this occasion of valentine, go for a ride with your partner on a brand new Himiway. Make your sweetheart's day, a day with plenty of love to remember for life. Make your partner feel special with the best electric bike gift on valentine's day.
Your partner will definitely love this amazing bike and its features. So stop overthinking and decide which module would be the best for your partner.
---