Electric bike Insurance - 3 Things You Must Know
---
As the most popular means of commuting, electric bicycles are very popular for their convenience and pollution-free characteristics. However, many problems followed. Traffic accidents and bicycle stolen incidents occurred from time to time, and many people felt helpless in the face of the high cost. We have shared a lot of knowledge about electric bicycles and riding before, today let us talk about something different, that is electric bicycle insurance. You may have many questions: What is electric bicycle insurance? Is it necessary to buy it? Or is it really helpful for me? Don't worry, the following content will answer all your questions, please follow us to learn about the relevant knowledge about electric bike insurance.
Should You Need Electric Bike Insurance?
First of all, we would like to tell you that in the United States, usually, you don't need to buy e-bike insurance and there is no legal requirement to buy it. Because the United States has a clear definition and classifications of electric bicycles, divided them into three classes and distinguished from electric motorcycles. However, in some cases, people will choose to buy e-bike insurance for various reasons. Therefore, for your personal safety and just in case the bicycle is stolen, we suggest you take consideration purchasing electric bicycle insurance. Here are some points about the importance of buying electric bike insurance:
The price of an e-bike is not cheap
Although the price of an electric bicycle is not that expensive compared to a car or a motorcycle, you can't deny that it is not cheap. Electric bicycles on the market usually sell for more than $1,000, and some even cost thousands of USD. Once it is damaged or stolen, it will be a big loss for you.
Under normal circumstances, the speed of an electric bicycle will reach more than 20 miles per hour, which is a significant increase compared to the speed of a conventional bicycle at about 10 miles per hour. In this condition, electric bicycles may bring more potential dangers and lead to more safety accidents than regular bikes.
E-Bike insurance covers a wide range
Electric bicycle insurance can cover most situations and meet the needs of most people. Although some items may charge extra, the insurance usually covers the following:
Theft: In Portland, 3000 bicycles are reported to be stolen every year, and this is just the tip of the iceberg of all stolen bicycles. Bicycle theft is now a serious problem and you should pay attention to it, and electric bicycle insurance is a good solution to this.
Malicious or accidental damage: This is the most common problem among all insurance claims.
Personal accidents: The number of deaths caused by bicycle riding (both electric and regular bike) in the United States in 2018 was about 800, and the number of injuries is even more numerous. E-bike insurance can pay you a lump sum if you are injured by riding an e-bike.
Most bike companies offer different warranties for customers. That could be kind of insurance for your e-bike. You should really care about it. In addition to the above points, most policies provide additional options. You can add extra items to improve your e-bike insurance cover levels, such as covering your GPS and other accessories, although additional fees may be charged.
Before you decide to buy electric bicycle insurance, please check other insurances you have already purchased (such as home insurance) to see if they already cover electric bicycle insurance. If it does, there is no need to buy it again. Moreover, please check the warranty period of the e-bike you bought. For example, all Himiway bikes are covered under our manufacturer's 2-year all-inclusive warranty for the original owner against all manufacturing defects. So please fully consider these situations and then decide whether to buy electric bicycle insurance based on your own conditions.
Different Type of Electric Bike Insurance
There are many types of electric bicycle insurance, different types correspond to different prices, and each insurance company is different, shop around when buying, and have a good grasp of each type of insurance to ensure that you find the most suitable one. Here we briefly introduce some insurance types, so that you have a general outline of electric bicycle insurance:
Theft: 

This item is usually covered by most insurances. When the insured electric bicycle is stolen, whether at home or outside, the insurance company will pay for the replacement bicycle. And theft is usually one of the main reasons to buy e-bike insurance. But please note: Personal accessories that are not classified as bicycle parts are not covered.

Natural disaster damage: 

Damage to the electric bicycle caused by natural disasters, such as earthquakes, floods, hurricanes, landslides, lightning, volcanic eruptions, mudslides, etc., are covered by insurance and you will be compensated.

Malicious or accidental damage: 

This covers all kinds of man-made damage, including but not limited to riots, terrorist attacks, malicious acts, and damage during transportation by road, railway, waterway, airplane, etc. When your electric bicycle is maliciously damaged by others or accidentally damaged, insurance can cover the cost of repair or replacement. And if you don't have insurance, because the price of electric bicycle parts is a bit expensive, it may be a big expense for you. Of course, deliberate damage is not included in the insurance.

Personal accident: 

If unfortunately, you are injured in an accident while riding an electric bike, this policy can give you a lump sum payment, so you do not have to bear the expensive medical expenses.

Third party liability: 

If you have an accident while riding a bicycle and injured someone else, and this person makes a claim against you, then the e-bike insurance can pay for any claims made against you and minimize your loss.

Accessories insurance:

Usually this is an additional item and is not included in most insurance coverage. Therefore, you can choose whether to add this item to your policy to increase your insurance coverage level, although this may require additional costs. The accessories that can be insured are GPS, lights, cameras, helmets, and some other items.

Rental reimbursement:

When your old electric bicycle is sent for repair or replacement, you can choose to rent a temporary bicycle for commuting and other needs before your e-bike is sent back, and this insurance can reimburse the rent.

Biking abroad:

If you ride the insured bicycle abroad or take it to travel on vacation, and your e-bike is intentionally damaged or stolen during this period, the insurance policy is also effective.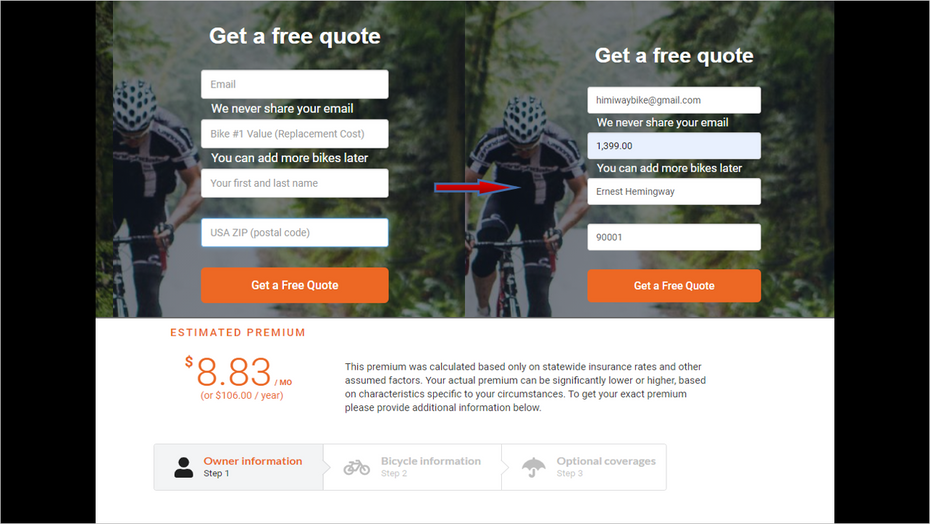 (The screenshot is from velosurance)
Most of the popular insurance websites can offer you an estimated  package with a fair price. The only thing you need to do is to provide your personal information and the details of your ebike. 
Claims Electric Bike Insurance Does Not Include
Although the coverage of e-bike insurance is wide enough, there are also some uncovered cases, common ones include the following incidents:
It is illegal for you to ride a bicycle after drinking or taking drugs. If you have a traffic accident that causes injury to anyone, including yourself, or the electric bicycle is damaged, the insurance will not take effect. And the insurance company does not have to bear any costs.
Carry passengers to make money
If you use an electric bicycle to carry passengers for the purpose of making money and cause anyone to be injured, the insurance company will not bear any responsibility.
Can't prove that you are the bike owner
When you have an accident covered by insurance, you need to prove that you are the owner of the insured bicycle. If you cannot prove it, the insurance company has the right to refuse to pay for it.
Normal wear that does not affect the bike work
Any normal wear and tear that does not stop the bike from working, such as tire wear, paint peeling, etc., is not covered by the insurance.
If there is no additional policy and no insurance for accessories such as GPS, lights, etc., then any loss or damage of these accessories will not be covered by the insurance policy.
Theft caused by unattended for more than 12 hours
For the insured bicycles that have been left unattended for more than 12 hours, if they are lost or damaged, some insurance companies will not compensate for this. Therefore, please do not park your bicycle in public places for too long, and read the terms carefully before purchasing insurance.
Theft caused by unlocking
When parking the bicycle outside, please lock it to something sturdy and unmovable; if at home, please remember to lock the bike inside the house or in the garage. If the bicycle is stolen because it is unlocked, the insurance company may not compensate.
For some personal items placed on the bike, such as clothes, wallets, mobile phones, etc., if they are stolen along with the bicycle, the insurance company does not pay for these items.
Finally, we hope that you will consider whether you need to buy electric bicycle insurance based on the above points: insurance coverage, price, and type, combined with your own situation. And remember to shop around before buying. In short, buying e-bike insurance is an extra guarantee for your own safety. Himiway sincerely hopes that every member of the Himi family will have a healthy body.
---
---