The bike turned out to be quite a ride and performed better than I expected! It has much great performance, such as wide range, variable speed, reasonable price, and so on. Everything in life is a series of tradeoffs. And the Himiway Cruiser is no exception. But the tradeoffs seem reasonable in exchange for the performance boost and pretty-darn-good feel of the bike. So I chalk it up in the win category.

Electric Bike manufacturer and seller Himiway makes daily commute much easier and cooler with its stylish all-terrain electric bicycles. In addition to a very stylish design, it also has the characteristics of light weight, durability and high performance. You can ride it through all terrains with a very silent operation of the motor. If you are drooling over the super-cool Himiway Cruiser, there is more to look out for!

Himiway is a newcomer in the league but has made some high quality, well-crafted eBikes that have got a lot of heads turned. The Cruiser is an excellent all-terrain eBike, with good grip and traction on every terrain and weather conditions. And with a powerful hub motor coupled with an everlasting battery, the Himiway Crusier is a sure shot investment and one of the best Fat Tire eBikes.

The Himiway Cruiser is an affordable all-purpose electric bike that combines cruiser comfort with off-road capabilities and commuting utility, it is great for commuting while also providing a comfortable ride. The large-capacity Samsung battery and the Shimano seven-speed transmission are really impressive, and the outstanding safety performance and reliable two-year warranty demonstrate their customer first purpose.

The Cruiser enters the popular fat tire electric mountain bike segment with its aggressive stance and massive batteries that promise even more range per charge. The Velo soft saddle on the Cruiser is one of the most comfortable seats I've tested. It strikes the perfect balance between comfort, ride quality, and price. Overall, the Himiway Cruiser is an extremely impressive offering in the affordable fat tire ebike segment.

Cruising through the city feels like a mellow walk. The touch points feel good and all the details feel good too. It's easy to charge the battery and interact with the electric system. Everything feels well made and solid. It's easy to cruise through the city next to cars and buses and you are sure to arrive at your destination with a smile. The Himiway All Terrain Cruiser series Electric Bike is a solid buy as long as it fits your needs.
6061 Aluminum
Frame
750W
Geared Hub Motor (continuous)
48V 17.5Ah
Samsung Battery
35~60 Mi
Miles per Charge (estimate)
7 Speed
Gear Shift System
350lbs
Payload Capacity
Experience Your All Terrain Electric Bike

The best all terrain ebike, from forests to sandy beaches and dense snow.

Never be careless about safety at night

The integrated brake headlight is activated when the brakes are applied and, both front and rear wheels are equipped with the reflective coils which ensure the rider's safety at night.
750W Brushless Gear Hub Motor
With 750W and 80Nm of torque at your disposal, the high-speed brushless gear hub motor can help you conquer the most rugged terrains easily.
48V 17.5AH Samsung Lithium-ion Battery
The battery is one of the most important components of an electric bike. Our electric bikes are equipped with Samsung 48V 17.5Ah batteries to ensure a long life span and high performance. Our long range is over 60 miles per charge on pedal-assist mode and around 35 miles on pure electric power mode. We offer a 2-year warranty on batteries.
840Wh
Total Battery Capacity
LCD Display
Backlight display provides speed, mileage, power, etc information.
Battery Capacity
A fuel gauge for your electrons.
Odometer
Calculate how many miles you ride.
Pedal Assist Level
Pedal assistance power adjustment.
Speedometer
Can be set to current speed, max speed, or average speed.
USB Charging
It can charge your dying cell phone.
Wattmeter
Displays motor power output in real-time.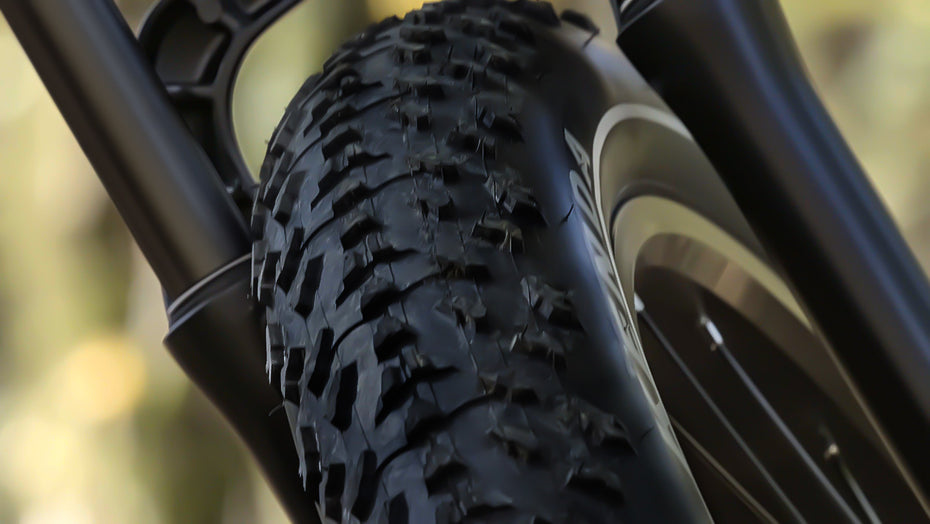 26"x4" Kenda Puncture Resistant Tires
26"x4" K-shield fat tires provide upgraded grip and traction on rugged roads. Even on the most troublesome terrains, these puncture-resistant tires can give you extremely safe and smooth ride.
Shimano 7 Speed Gear Shift System
The Shimano 7 speed freewheel means you can shift to a larger cog for uphill riding and downshift to a smaller cog at high speeds. In combination with the pedal-assist system, you can adjust the suitable speed to complete your journey.
180mm Mechanical Disc Brakes
Both the front and rear 180mm mechanical disc brakes provide ample stopping power even in the harshest conditions.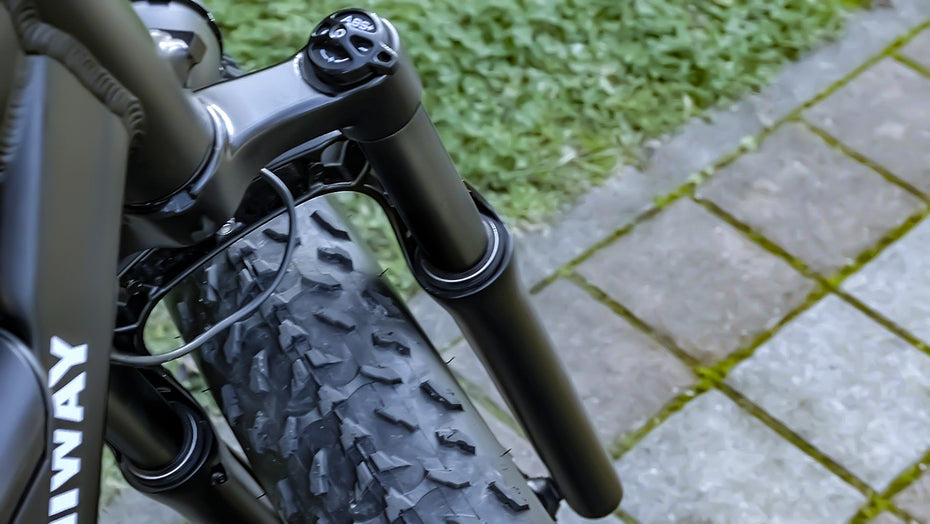 Front Fork: Coil Suspension & Hydraulic Lockout
Alloy front suspension fork has 80mm of travel, preload adjustment, and lockout.
48V LED Headlight
The headlight is bright enough to make night driving much safer and more enjoyable.
Velo saddle seat
Comfortable saddle seat features a comfortable design specially made for pressure relief.
Durable Aluminum Crankset
Durable aluminum crankset guards to provide further protections to the chainring and help the chainstay to travel over rough terrain.
Half Twist Throttle
The Half-twist throttle prevents the accidental activation, protecting you from accidental injuries.
Rear Rack
Bring your friends along for the ride!
Specification

Battery 48V 17.5Ah Samsung lithium battery
Range 35~60 Miles
Hub Motor 750W brushless gear motor
Total Payload Capacity 350 lbs
Recommended Rider Heights 5'3" ~ 6'4"

Charger US standard 2.0 A smart charger
Controller 48V / 25A
Display LCD display with USB charging
Weight 72lbs
Pedal Assist Intelligent 0~5 level pedal assist

Components

Tires 26" x 4" Kenda fat tires
Brake lever Aluminum alloy comfort grip levers with motor cutoff switch
Rear Light Taillight
Freewheel Shimano 7 speed gear shift system
Brake Tektro aries 180mm brakes
Chain KMC chain
Stem Promax MA-400 SSABK
Crank 170mm forged alloy
Gearing Shimano- 14-28T BROWN/BK

Front Fork Alloy front suspension fork with lockout and adjustment
Throttle Half twist throttle
Pedal Alloy pedal with reflectors
Bike Frame 6061 Aluminum frame
Front Light 48V LED light
Saddle Velo soft saddle
Seat Post Diameter 30.4mm length 300mm
Kickstand Heavy duty aluminum
Spokes 13 Gauge on the front / 12 Gauge on the back

Geometry

A -- Total Length 75"
B -- Handlebar Height 46.5"
C -- Wheelbase 45"
D -- Minimum Seat Height 28"
E -- Maximum Seat Height 36.5"
F -- Chain Stay Length 19"
G -- Standover Height 31"
H -- Top Tube Length 22.5"
I -- Wheel Diameter 28"
J -- Head Tube Length 6"
K -- Handlebar Length 26"
For U.S market, the top speed of Himiway is around 23mph without pedaling, which is absolutely legal.
No, We only ship to the lower 48 in the US.
We believe that communication is the best way to solve the problem. Please contact us in time. To help you solve the problem as quickly as possible, please describe the problem in detail and provide photos and videos so that we can find the problem. 
If you pay by credit card, your payment could be  somehow denied at the checkout by our system in defense against possible credit card fraud. It's a good idea to call your credit card company or bank ahead of time to let them know about the purchase so that it doesn't get declined. Under such circumstance, here are 3 solutions for you:
1. Please switch to your other credit/debit card.
2. If you have a Paypal account, please try to pay by PayPal.
3. If you do not have a Paypal account, please select PayPal still at the checkout page & click the complete order button. Then you'll be directed to a page with access to both PayPal and Debit/Credit card payment (for the latter option, you don't have to register for PayPal).
Then you can complete your order with your credit card.
For pre-orders, please refer to the shipping date on the product page. A shipping confirmation email will be sent to your email once the order has shipped. The carrier is FedEx. Once the items arrived in our warehouse, please allow 2~7 business days for your shipment to arrive at your address. For any third-party shipping, we cannot provide any additional shipping information or documentation. Any delivery dates provided by HIMIWAY are estimates.
An electric bike is legally treated the same as a normal bike. You can ride an electric assisted bike anywhere you can ride your regular bike.
No. The e-bike from Himiway is completely under U.S regulations and laws which allow you to ride it without specific license.
Charging the battery from empty to full typically takes 6-9 hours. In rare cases, it may take longer to allow the battery management system to balance the battery, particularly when the bike is new or after long periods of storage.
No. On many batteries this is preferred, however our batteries are all high-tech batteries from Samsung and have built-in mechanisms that protect the battery from overcharging.
Clean your HIMIWAY bike just the way you would clean a regular bike. The battery can handle water, but it is recommended to remove the battery before hosing down your HIMIWAY bike.
Yes. Free shipping is included.
Your bike will arrive mostly assembled. We'll also provide the tools and a comprehensive assembly video for the rest part.