7500 Miles at 72 Years Old: A Himiway Experience
---
When an average person reaches 70 years of age, typically they can expect their quality of life to sharply decline. Morbidity shortens as the list of health problems lengthen, but hey, that just comes with age, right? Chuck Wilde (72), however, is not your average person. While others may be reaching for walkers, Chuck is reaching for his Himiway. However, this isn't just for a pleasant jaunt around the neighborhood. No, this first 7500 miles is just the stepping stone for many more experiences to come. We were able to discuss Chuck's accomplishment on his Himiway, and some of the journeys he has been on.
Q: With all the eBikes out there what made you choose Himiway?
A: I was from Minnesota. I moved down [to Tucson] about five years ago. After I bought this home in Tucson, I found out about all of the trails and stuff where you can ride bikes near in the Loop in Tucson and I thought, "God, that would really be fun to do stuff like that." I was looking for something to occupy my time and I really wanted to get an Ebike. I just kept reading reviews, reading this and that, on Ebikes. I came across the Himiway ad, and I started reading into them quite in depth, and I thought this is something that really interests me. The bike looked durable. When it got delivered, I pulled it in my carport and I opened up the box, the first words in my mouth were, "Oh my God!" I'm not kidding you. I've seen a lot of bikes in my life. I've ridden a lot of bikes, but no ebikes; however, I have never seen such a monster. I guess, for lack of better words, it's just built so well. When I took it out of the box, started assembling it, I just thought, "Man, am I going to have a blast with this!"
Q: Reaching 7,500 miles is no small feat. How do you ride your Cruiser? What has impressed you most about the bike and what sort of maintenance did you perform on it?
A: It's comfortable riding, it's perfect for me. I can't say anything too good about it because everything's been good for me. I usually bike 24 miles every other day, and it takes me roughly 78 minutes to do that. My average speed is 18.5 miles an hour. Out of that 7500 miles I have on my Himiway, I have not pedaled less than probably 1 mile; all the rest of them are pedaled. When I'm out on the loop I will have it on the assist, but I always try to keep it pedaling so it doesn't show I'm using any battery on the assist. after the 24 miles, I've come home, and a lot of times it'll be on five so it won't use hardly any at all. I did just replace the chain about maybe two weeks ago and I put on one set of tires. I got 6300 miles on the originals. I also went through two sets of brake pads. That's the only thing that I put on the bike. I check the suitable tire pressure once every couple of weeks. I oil the chain about every 200 miles with dry oil. Adjust the headlights and stuff like that. Just maintain anything that I need to. I'm always looking at and checking it out and cleaning it up and stuff. It looks brand new.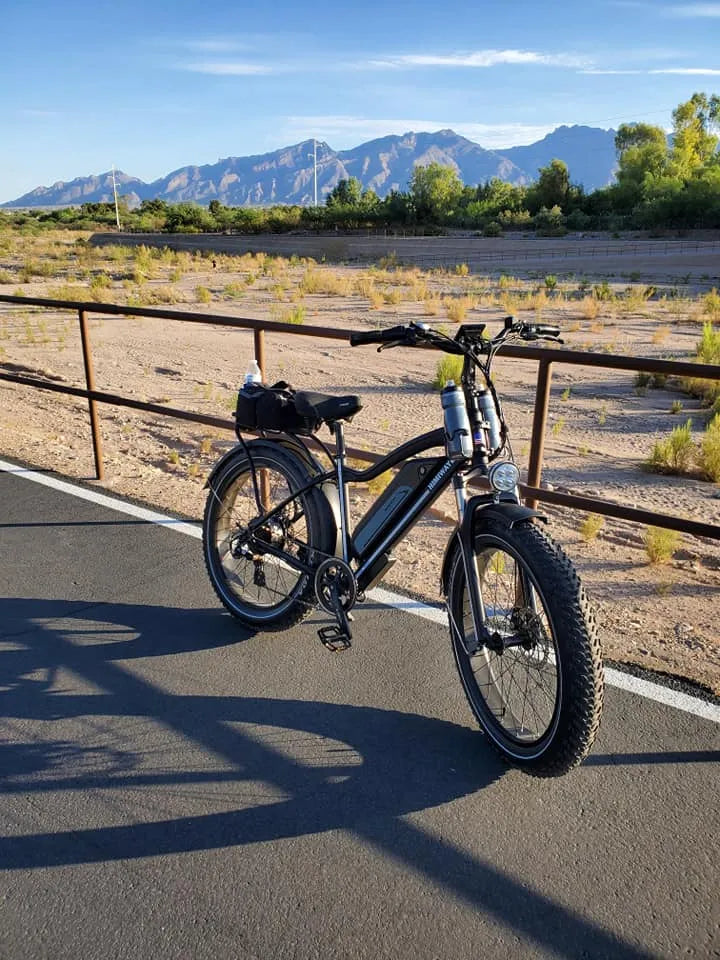 Q: What sort of experiences have you had while riding your Himiway? How has it changed your life?
A: First, I want to tell you that I'm 72 years old. I have a bad back and my knees are bone on bone. My doctors just love it that I go out and bike every other day, and the other days that I don't bike, I walk roughly 10,000 steps. My mobility in my right knee was less than maybe a quarter of normal movement and I couldn't get it to go any better than that. After I bought the Himiway and started riding it every other day, I'm not kidding you but I'm up to almost three quarters on that knee. That same knee that was locked almost at a quarter. I asked the doctor if this hard on me, being that I have bone on bone in each one of my knees. He told me no and to keep on doing it.  He says it's like you use it or lose it, just keep doing what you're doing. So, I have and I have been feeling great. I'd probably say riding my Himiway has changed my life because when I'm living here, there's 400 other homes in this 55 and older park, and everybody will come up to me and say I'm one of the only people that they know of that rides their bike that far [24 miles] and does all this walking. It's really gotten me into the health part of it, my legs are feeling better and I've got some pretty good-sized calves on me right now. I attribute that to the biking, most definitely, and being at 72 years old I don't complain a bit about anything. There are other people here with walkers and all this business. I just say it's kind of unfortunate; but as for myself, I'm going to keep doing this until I just can't balance anymore, I guess. 
Q: What are your overall thoughts on the bike and what recommendations would you give to others looking to buy or switch eBikes?
A: This bike just gives me so much pleasure, I just look forward to getting out on my ride. But I tell you, I sure get the looks, though. In this park that I live in, two of my friends tried my bike out and they each ended up buying one. When people ask, I usually tell them there's not a better bike made. I haven't had any other ones, but I've got 7500 miles on it right now, and well, it's more than met my expectations. I am so happy with it. Because of the way it's built, it's probably one of the bikes that has the least number of problems, as far as I'm concerned. I'm just totally happy with it. I've never experienced anything in my life—cars, pickups, snowmobiles that I've had—any of those things that ran as well as my bike has without sinking a lot of money into it or having multiple problems. I would definitely tell them that part of it, for sure. I would say, well, just take my bike for a ride and tell me and come back and tell me you don't like it, because I know they'd be lying.
Although this was simply a phone conversation, I could clearly see the smile on Chuck's face as he talked about his time on his Himiway and the joy that it brought into his life. 7500 miles of smiles, and he's not done yet— "I'm going to keep doing this until I just can't balance anymore." What does your Himiway do for you? 
---
---